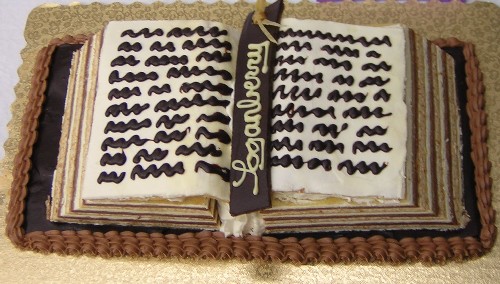 Every year on the first Saturday of April, in honor of April Fool's Day and the birthday of French gastronome Jean-Anthelme Brillat-Savarin (1755-1826), famous for his book Physiologie du goût, we gather to display, marvel, vote, and (in non-pandemic times) partake in edible books made by our friends and customers.
---
The time has come, the Alice said

to vote for tasty things
📚 Entry form open until noon EST on Sat, Apr 1
✔️ Voting 1 PM EST Apr 1 - 1 PM Apr 2
🏆 Winners announced Sunday, April 2
💲1 to the Cleveland Food Bank for each submission!
---
The International Edible Books Festival started in 2000 and has been gaining popularity each year. Loganberry Books and Strong Bindery have sponsored the Cleveland event since 2004 and give out hand-made miniature book pins to all contest entrants and book awards to contest winners.
In 2020 & 2021, we moved the Edible Books Festival online for Covid safety, and we plan to continue this version in 2022. Check back for details coming soon!
Everyone is invited to participate, and entries of Edible Books are highly encouraged. Booklovers, bookbinders, cooks, and craftspeople of all ages are invited to participate. Create something book related, making sure all parts are edible. Actual books displayed with the edible entry are also encouraged.
Award Categories
prizes (books or gift certificates) awarded by popular vote
Logan Award for Most Literary
Otis Award for Most Appetizing
Strong Award for Best Binding
Zober Award for Best Pun
Thanks to all our 2022 participants and voters!
Edible Books Archives