Author Alley is one of Loganberry Books' signature annual events and a key part of our celebration of Local Voices. Every summer we feature a busy book-fair of local writers, signings, and readings.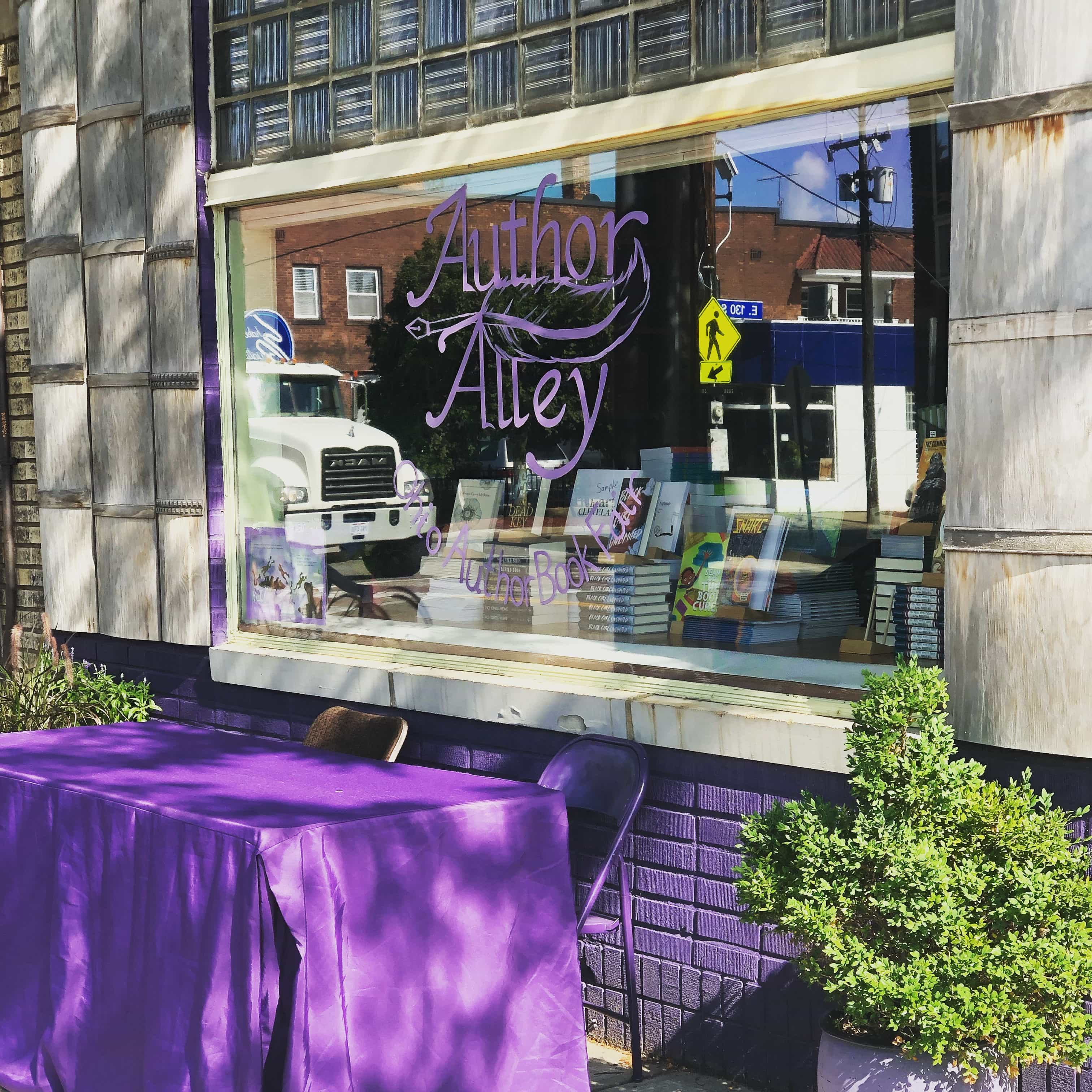 This year we will host a series of events on the second Saturdays June-September. Our 2023 show will now feature a day specifically for authors and illustrators of illustrated literature!
The event will run from 12:00pm - 4:30pm on the following dates:
June 10, 2023: BIPOC Showcase
July 8, 2023: Non-Fiction and Poetry Showcase
August 12, 2023: Fiction Showcase
September 9, 2023: Children's and Illustrated Lit. Showcase
Applications are closed for 2023!
Check back in Spring 2024 for next year's application!!
Author Alley is intended to promote books published in the last 18 months. You may still apply if your book is older than that, but please be aware that authors with more recent publications will be given priority.
Illustrated Literature includes, but is not limited to: Picture books, Photo/Artist Monographs, Zines, Graphic Novels, & Comics.
2023 Author Alley participants:
Author Alley BIPOC showcase 6/10/2023
Breshea Anglen – Noni and the God Tree
Cliff Anthony – Tears in God's Own Country
J.D. Belcher – Inescapable Consequences
Brittany Eaton – Zippy the Zebra Takes the Stage
Alex P. Michaels – What Angels Fear?
Emilia Rosa – Finding Cristina: A New Life
Dominique KrystalDawn – Stormey Knights
Nicole D. Miller – When Love Wins
Angela D. Newman – Reiki Meditations Children's Manual
Zariah Banks – Beauty Beheld
Ava Reiss – Stillness in the Storm
Author Alley Nonfiction & Poetry 7/8/2023
Khadijah Amatullah – The Torn Veil . . .
Monica Babcock – Kissing the Stone
Charlotte Brown – Proclaim It!
Jamie Capuzza – The Fifth Star . . .
Neil Carpathios – The Lost Fragments of Heraclitus
Kathy Ewing – A Grandmother's ABC
Andratesha Fritzgerald – Antiracism and Universal Design . . .
Abdul Sunni Ghani – Walking Through a Maze of Life
Erica Glover – Centering Student Voice . . .
Fudail Griffin – It's A Lot Going On
Ben Gwin – Team Building . . .
Arnez Hardnick – Financial Freedom Planner
Brandi Larson – UnCULTured: A Memoir
Michael Loderstedt – Why We Fished
Greggor Mattson – Who Needs Gay Bars?
Patty Merski – Mother Beach
Hannah Pearl – Laughing with My Hair Up
Elana Pitts – Amelia Marie Bel Rose
Tom Raithel – This Easy Falling
James Renner – Little, Crazy Children
Susan Stocker – Mooring at the Millrace
Anthony Webb – Soul Tasting
Kevin Williams – Roswell Revisited
Erika Wolf – Cancer & Other Things I'm Grateful For
Carlo Wolff – Invisible Soul
Author Alley Fiction 8/12/2023
Cliff Anthony – Tears in God's Own Country
Zariah Banks – Beauty Beheld
Gary Beckley – Oh! Susannah
J.D. Belcher – Cleveland Noir
Armani Borden – Welcome to My World
Vivien Chien – Misfortune Cookies
Kate Church – A Breath Before Drowning
David Allen Edmonds – Unexpected Love
Vanessa Frances – Through Neighboring Windows
Miesha Wilson-Headen – Cleveland Noir
L.B. Huckleberry – Academia Can Be Murder
Gabrielle Jarrett – Operation Rockwell
Jordan King – White Oaks
Dominique KrystalDawn – Stormey Knights
Ruth Lang – The Wilderwomen
Matt Marshall – Crunch
Louis Thomas Masterson – The Denial of the Fourth Reich
A.X. McMillan – Division Two
Nick McPherson – Chosen: The New Order
Nicole D. Miller – When Love Wins
R.J. Norgard – Trophy Kill
Victoria Perkins – Star Riders: The Wakening
Emilia Rosa – Finding Cristina: A New Life
Joseph Sieracki – The Life and Death of the Brave Captain Suave
Alodia Thaliel – White Roses
Julia Tvardovskaya – Identifiable
Vance Voyles – Soldier's Heart
Mark Zimmerman – Eli: The Phenom's Story
Author Alley Children's & Illustrated Lit. 9/9/2023
Marie Abron – Pickle Me, Pickle My
Gloria G. Adams – Ah-Choo!
Jamey Altizer – Bobby Bigfoot
Jayke Brown – I Caught Daddy Kissing Santa Claus
Mary Brown – All Kinds of Love
Lori Colvin – A Quiet Conversation With Snow
Jean Daigneau – Code Cracking for Kids
Christina Dendy – Hide and Shh!
Mazey Eddings – Tilly in Technicolor
Wendy Fedan – Why Can't a Rainbow Last Forever
Angela Gibian – Forging With Freddy: Safety First
Laura Elizabeth Gray – The Swing on the Silver Star . . .
S.R.D. Harris – James Plays Too Many Games
Amber Hawthorne-Spratlen – Maria's Wonderland
Douglas Laubacher – Unbound Renewed
J. David Lubinger – Jill & Jake Get a Brother
Karen Mae – Curiously Cara Meets Queen Amanirenas
Tony Marini – Pennie, The Christmas Pickle
Patty Merske – Mother Beach
Lauren Persons – The Perfect Gift
Ava Reiss – Stillness in the Storm
Cindy Rotvar – Squirrelly Q
Greg Scheetz – An Aardvark at an Amusement Park?
S.A. Schneider – Embracing the Magic
Alex Shaland – Jackie the Penguin Goes to Madagascar
HerBrina S. Shepherd – HerBrina, THE Amazing!
Jowan Smith – Mya, Mya, Mya
Glenn John Somodi – Olly & the Spores of Oak Hill
---
2022 Author Alley participants:
Author Alley BIPOC showcase 8/6/22: John Ballom, Luciana Black, Kyra Ann Dawkins, Latonya Fenderson-Warren, LaBena Fleming, Chelbi Graham, Nikki Gregory, Carmen Hall, Valencia Joy, Lady Poet, Donald King, Nicole D. Miller, Denise Monique, Elana Pitts, Ashley Scott, Kamatchi Devi Subramanian, Cori Sykes, Chante Thomas, Gabrielle Vaughn, RJ Voice, Mary Watson, Anthony Webb, James Wingo, JJ Winston, and Ticana Zhu.
The Broadsides & Ephemera Poetry Showcase 8/13/22: Megan Neville, Jeremy Jusek, Kevin Risner, Cat Russell, Ken Tomaro, and others.
Author Alley Fiction 8/13/22: Monica Babcock, MT Bass, JD Blackrose, Dan Chaon, Diane Ferri, Deborah Fleming, Jason Lady, Lori Lent, Holly Maholm, Anthony Miano, Clarke Owens, Frank Paino, Victoria Perkins, Molly Perry, Brian Petkash, Susan Petrone, Catherine Pomeroy, Halle Prenata, James Redwood, Emma Riva, Amy Rosenbluth, Megan Whalen Turner, Mary Turzillo, Abby Vandiver, and Laura Walter.
Author Alley Nonfiction 8/20/22: Melissa Crandall, Alison Duiker, Gary Dumm, Tameka Ellington, Na'Tasha Evans, Ashley Fedan, Liz Ferro, Deborah Fleming, Martin Gitlin, Rev Rachel Hollander, John Kavouras, William Keating, Judi Lifton, Scott Longert, JD Lubinger, Scott MacGregor, Robert Miltner, Clay Myatt, Dan Nathan, Alexi Panehal, Janie Reinart, Suzy Remer-Bednarski, Alex Shaland, Irene Shaland, Tricia Springstubb, Gary Webster, and Karly West.