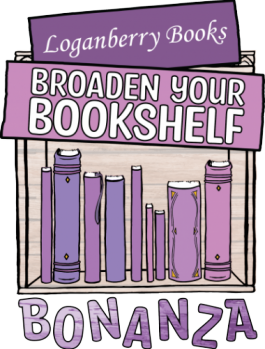 Stay tuned for information on the next Bonanza.
In 2022 we had a yearlong reading adventure!
Win prizes! Read more, read deeper, read bigger, read wider. Read funnier, more fantastical, more factual! Challenge yourself to broaden your bookshelf and read boldly where you've never read before!
2022 Quarter 4 winners were drawn at the end of January 2023.

----

2022 Quarter 4 prompts! We have 20 new prompts to inspire you (and the possibility of reading more from Q1 & Q2). Use the prompts to broaden your bookshelf by choosing the ones that will challenge you to read genres or authors you don't usually read or to explore new places, times, and ideas. Start your spring reading adventure today!
You can begin any time. Sign up now.
---
What is the Broaden Your Bookshelf Bonanza?
20 Prompts per quarter. You choose the ones you like best!
Set your own reading goals. Each book read and logged enters a raffle.
Quarterly prizes for active participants. Each reading log form submitted is an entry into the quarterly Broad Bookshelf raffle. (Look out for other prize categories as we go!)
Grand Prize – a personally curated shelf's worth of books (valued $220) tailored to your reading enthusiasms! – plus a prize for the Perks Club member who has bought the most books for the Bonanza AND runner up prizes awarded in January 2023.
Regular book challenge newsletter to cheer you on & inspire your next choices.
Special social media challenges, too. Tag us #broadenyourbookshelf on Instagram and Twitter.
An end-of-Bonanza party for all participants! (If we can gather safely.)
How to participate?
Sign up using this form, or come into the store.
Log your reading using this form, or come into the store. In your log entries, you can recommend books and tell us about your reading. We'll share your tips with other Broaden Your Bookshelf participants.
Post about your reading on social media! Take photos. Review books. Be sure to tag @Loganberrybooks #broadenyourbookshelf
Tell your friends and get them to play along too!
Quarter 4 Reading Prompts
Read a book published in 1994 (the year Loganberry was founded!)
Read a Banned Book
Read a Horror Novel
Read a Historical Fiction Novel
Read a book on Religion
Read a book on Philosophy
Read a book with a one-word title
Read a short story collection
Read a book with a number in the title OR a book about numbers
Read a book with your favorite color on the cover or in the title
Read a book featuring an Otis (the retired feline founder of our seasonal Curiosity Shop)
Read a holiday-themed book (any holiday from any time in the year)
Read a book with winter vibes or aesthetic
Read a book about animals
Read a YA/Teen book
Reread a book you read a long time ago
Read the newest addition to your TBR
Read a classic you've always been curious about
Read a tome (more than 500 pages)
Read a book about something you loved as a child
And of course, you can read something from one of the previous prompt lists that you haven't gotten to!
Log your Q4 reading here. Every book logged is an entry to win prizes at the end of January!
Discover new books, new authors, new experiences, new ideas. Meet fellow readers near and far. Win prizes.