Fast Forms & Links
---

Search Loganberry's Website!


---
---
Keep in touch ~
Sign up for our monthly email newsletter!
---
Loganberry Books
---
Best Used Bookstore

Scene Magazine, 2002



Best Bookstore




Northern Ohio Live, 2006


Best Used Bookstore


2007 Freebie Awards

featured on
---

Questions?
books@logan.com


welcome to Loganberry Books!
A big round of thanks to all the authors who participated in Author Alley this year. We had 46 authors in attendance, weather was perfect, and we're pleased to have seen so many of you, and to introduce you to these great authors. Yes, of course, we still have some books in stock if you missed the event.

---
Construction continues on Larchmere, and guess what that means? We're having a SALE! The construction crews are hard at work, but they make way for both auto and pedestrian traffic, so don't be afraid to come see us. Before the fancy new concrete, asphalt and brickwork is all finished, we've decided to institute a full-store, tiered sale. Here's how it works:
10% off purchases $10---$50
15% off purchases $51--$100
20% off purchases $101 and over

Yes, cards and tchotchkes are included, and yes, Loganberry Perks points will accumulate. No other discounts will apply.
---
170B: Family who lives in a tent and moves from place to place


I'm trying to track down a book I remember reading and LOVING as a child back in the 1960s. I was probably 8 or 10 at the time. I don't recall there being any pictures. It was about a girl and her family who migrated from place to place and lived in a tent. I remember there being detail about how they set up their tent to make it feel like home. The little girl had a shoe box of some sort that all her belongings and treasures were kept in. She may or may not have had a doll, too. I can't recall the plot. I just recall being fascinated by a little girl living in a tent and having to move everything the family owned from place to place. Any help you can give me would be great!
---
Annex Gallery

David Perelman-Hall and Bob Lanese: Cleveland Photography
Opening Reception: Wednesday, July 2, 6-8pm
Show: July 2—August 2, 2014
~ first Wednesdays ~
Doan Brook: A River Runs Through It
Lakeview Cemetery: Plot Summaries
In a mixture of large scale and sumptuous black-and-white and color photography, the artists present a two-part show on local venues Doan Brook and Lakeview Cemetery.
Exhibition continues through August 2.


---
Local Voices Seminars
Gail Ghetia Bellamy: How to Pitch Story Ideas to Magazines
Wednesday, July 9, 7:00-8:00 pm
~ quarterly writer's seminars ~
This talk will define the various markets for freelance articles and provide tips for breaking into different types of publications. You'll get pointers on how to package your article ideas, promote yourself as a freelancer, and work with editors. Whether you want to write for women's magazines, business magazines, special interest publications or any of today's other markets, this session offers an editor's perspective and provides helpful suggestions for getting started. Gail Bellamy, PhD, is an award-winning journalist, an executive editor of a national business-to-business publication, contributing editor for a national trade magazine and former co-editor of Ohio Writer. $10.


---
Open Mic

Broadsides and Ephemera
Thursday, July 10, 7:00-8:30pm
~ second Thursdays ~
We continue our open mic series called Broadsides & Ephemera, a spoken word showcase of local writers, artists, and performers. A perfect environment for shaping, sharing, and improving your poetry, prose, song, theatre and performance art. Come one, come all!

---
NOBS Forums

Cristine Rom: Cleveland Institute of Art's Artist Book Collection
Wednesday, July 16, 7-8:30pm
~ third Wednesdays ~
Over the past three decades, the Institute's artists' books collection has grown to almost 1,700 books representing North American artists, Western Europe, South and Central America, and Asia. Books in this collection date from the 1960s to the present and include some rare and historically significant "classics." While the collection has some unique books and some books made by Institute students, most of the books are multiples by professional artists who have turned to the book form for artistic expression and experimentation. Rom, Library Director and curator of the collection, will present an overview of the artists' books movement and the development of the Institute's nationally respected collection.

---
Live Music

Old Boy
Thursday, July 17, 7:00-8:30pm
~ Thursday music series ~
A band from Cleveland, Ohio, with a blue collar attitude about making and performing music. We know what it feels like to enjoy music and songs, and we try to bring that to people. With influences from REM, Wilco, Neil Young and the Pixies, we are compared to Mumford and Sons, the Band, and Ray LaMontagne, but never derivative of anyone. We hope to make music that you feel and moves you. Admission is pay-what-you-can.
---
Classics Club

Pearl S. Buck: The Good Earth
Wednesday, July 23, 2014, 7pm
Nobel Laureate Pearl S. Buck's epic Pulitzer Prize-winning novel about a vanished China and one family's shifting fortunes.Though more than seventy years have passed since this remarkable novel won the Pulitzer Prize, it has retained its popularity and become one of the great modern classics. In The Good Earth Pearl S. Buck paints an indelible portrait of China in the 1920s, when the last emperor reigned and the vast political and social upheavals of the twentieth century were but distant rumblings. This moving, classic story of the honest farmer Wang Lung and his selfless wife O-Lan is must reading for those who would fully appreciate the sweeping changes that have occurred in the lives of the Chinese people during the last century.Nobel Prize winner Pearl S. Buck traces the whole cycle of life: its terrors, its passions, its ambitions and rewards. Her brilliant novel—beloved by millions of readers—is a universal tale of an ordinary family caught in the tide of history.


---
Live Music

Gene's Jazz Hot
Thursday, July 24, 7:00-8:30 pm
~ Thursday music series ~
Gene's Jazz Hot is back to oil the floors and make the books dance. Infectious happy toe-tapping swing music, as performed by Gene Epstein on double bass, Kevin Richards on guitar, Bill Kinney on clarinet and Reed Simon on violin. Come join the happy ensemble and celebrate summer. Pay-What-You-Can Admission
---
Live Music

Helen Avakian and Mark Sganga
Thursday, July 31, 7:00-8:30 pm
~ Thursday music series ~
Helen Avakian is an award winning singer/songwriter/guitarist from the Hudson Valley region of New York. She was voted number 1 "Favorite Acoustic Act" 4 times by Rhythm and News, and she has won numerous songwriting awards including six first prizes from the Newsongs Contest and Top Final Five in the International Fingerstyle Championship at the Walnut Valley Festival in Kansas. Helen has received raves from reviewers who call her "a rising star," "guitar Goddess" and "incredibly nuanced and dynamic...transcendent." Helen has been honored to appear at the annual Woodchoppers Ball for the past several years. Pay-What-You-Can Admission
---
Poetry

Youth Poetry Slam
Friday, August 1, 6:00-9:00pm
~ special event ~
Students at the Cleveland School of the Arts are engaged in a year-long competition to declare the national team for the National Poetry Slam. The top winner for each of the six Slam competitions this summer will automatically be on the team; others to be determined later. And how are the winners of each local Slam determined? By audience popular vote. So come on out to Loganberry on August 1st, see what your neighbors are up to, and help vote on who will represent our fair city.
---
Open Mic

Folknet Open Mic
Thursday, August 4, 7:00-8:30pm
~ first Thursdays ~
Our acoustic open mic with Folknet is off to a rousing start. Mallory SanMarco is the spirited emcee, and 15 minute slots are available for interested players. It's a good way to hear what's going on in the neighborhood, and to relax a bit with some good tunes. Check out this cool video from our last Folknet Night (thanks, Bob!). It's free, and all are welcome.


---
Blog
---
Author Alley
Saturday, July 5, 2014
Registrations now closed.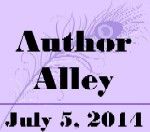 ---
Photo Albums
---
Annex Gallery
---
Most Requested
---
Book Club Members
---
Back in Print!
---
Catalogs
---
Otis' Old Curiosity Shop
a holiday shop

---
Edible Books Festival
Saturday, April 5

---