Fast Forms & Links
---

Search Loganberry's Website!


---
---
Keep in touch ~
Sign up for our monthly email newsletter!
---
Loganberry Books
---
Best Used Bookstore

Scene Magazine, 2002



Best Bookstore




Northern Ohio Live, 2006


Best Used Bookstore


2007 Freebie Awards

featured on
---

Questions?
books@logan.com


welcome to Loganberry Books!
---
Guess What? It's Guess Who time. Like in Augusts of yore, we feature a window display of 30 books, and you have been issued a challenge to identify the author, illustrator, or athlete represented by these books. We've got contest forms, and a $50 prize for first place winner. There's also a bonus point for identifying the theme this year (hint: it's not fiction).

Our annual August sale on fiction is on, too.
20% off everything shelved in the LitArts room
, which includes not only general fiction, but genre fiction, teen fiction, plays and poetry, author biographies, lit crit, foreign language, graphic novels, theatre and film, music and dance.
Meanwhile, construction goes well on Larchmere. The south side of the street has been resurfaced, and now the south side gets new curbs and sidewalks (just like we got a few weeks ago!). It'll be over soon, but parking isn't a problem. There's a big lot one block down from us on Kendall Road, as well as side streets like East 130th and Cheshire, and we've got a driveway right next to us, too. Lots going on, so we hope to see you soon!

---
170B: Family who lives in a tent and moves from place to place


I'm trying to track down a book I remember reading and LOVING as a child back in the 1960s. I was probably 8 or 10 at the time. I don't recall there being any pictures. It was about a girl and her family who migrated from place to place and lived in a tent. I remember there being detail about how they set up their tent to make it feel like home. The little girl had a shoe box of some sort that all her belongings and treasures were kept in. She may or may not have had a doll, too. I can't recall the plot. I just recall being fascinated by a little girl living in a tent and having to move everything the family owned from place to place. Any help you can give me would be great!


---
Annex Gallery

Gerry Shamray: Fine Lines & Felines
Opening Reception: Wednesday, August 6, 6-8pm
~ first Wednesdays ~
Gerry Shamray is best known for his sketchy life-like drawings of Harvey Pekar in the comic book American Splendor. He's also worked with legendary comic strip artist/writer Tom Batiuk ("Crankshaft," "Funky Winkerbean") on the nationally syndicated strip, "John Darling." While working in the newspaper business as an artist and writer, Gerry has garnered over 25 national and statewide awards and even earned a local Emmy during his stint at WVIZ. Gerry's work ranges from realistic pen & ink sketches to humorous digital illustrations. His online portfolio is at shamray.com. Show continues through September 1.


---
Open Mic

Folknet Open Mic
Thursday, August 7, 7:00-8:30pm
~ first Thursdays ~
Our acoustic open mic with Folknet is off to a rousing start. Mallory SanMarco is the spirited emcee, and 15 minute slots are available for interested players. It's a good way to hear what's going on in the neighborhood, and to relax a bit with some good tunes. Check out this cool video from our last Folknet Night (thanks, Bob!). It's free, and all are welcome.


---
Open Mic

Broadsides and Ephemera
Thursday, August 14, 7:00-8:30pm
~ second Thursdays ~
We continue our open mic series called Broadsides & Ephemera, a spoken word showcase of local writers, artists, and performers. A perfect environment for shaping, sharing, and improving your poetry, prose, song, theatre and performance art. Come one, come all!


---
Book Signing

Jean Ann Hudson: Sparrow In The Keep
Monday, August 18, 3-4pm
~ Local Voices ~
Jean Ann Hudson lives on a small ranch in New Mexico and raises cows and chickens. While growing up in various cities and suburbs across the country, including Shaker Heights, Ohio, Jean Ann dreamed of designing her own home, a castle perhaps, and having chickens. While Jean Ann and her husband have built their own castle, a straw bale home, her book is about Sparrow, a girl with knowledge only of the forest and animals who struggle with the decision to stay in the forest where she grew up or leave to start a family in the world of Wilker castle. Sparrow In The Keep is the first book in The Wilker Chronicles Trilogy and Jean Ann Hudson will be here signing copies of her book on Monday, August 18, 2014, at 3pm.


---
NOBS Forums

Show and Tell
Wednesday, August 20, 7-8:30pm
~ third Wednesdays ~
Summer is a great time for new discoveries and to show off those prize pieces in your book collection. Anything goes: you can bring treasured tomes and tell us about them, or you can bring odd curiosities you know nothing about and let group members tell you what they think. This is also great fun for the novice book collectors to explore the wonders of what is out there. Either way, there's always something to learn and some great books to discuss. Bring a book and join us.

---
Live Music

Istvan Medgyesi
Thursday, August 21, 7-8:30pm
~ Thursday music series ~
Inspired by a wide range of music, you can hear the echoes of an array of American musical traditions intertwined with modal explorations and occasional forays into noise and drone. Admission is pay-what-you-can.

---
Larchmere Sidewalk Sale

Saturday, August 30, 10am-5pm
~ Labor Day weekend ~
Come shop the bargains on Larchmere! We'll have our specials out on the new sidewalk (yes, sidewalks are a thing to celebrate!), and 20% off all books in the store! It's our bi-annual, street-wide celebration. Please join us.


---
Book Signing

Michelle Krankowski: If I Had to Say Good-bye
Saturday, August 30, 12-2:00pm
~ Local Voices ~
We get so caught up in our lives. Our lives can be crumbling down around us. It is our human reaction to panic, cry, and run. We're left with the feeling of helplessness. We all have been there. It's dark, cold, and isolating. We fear the unknown. It's at that moment that when God reminds us of His eternal promises.


---
Classics Club

Annie Dillard: Pilgrim at Tinker Creek
Wednesday, August 27, 7pm
~ fourth Wednesdays ~
An exhilarating meditation on nature and its seasons—a personal narrative highlighting one year's exploration on foot in the author's own neighborhood in Tinker Creek, Virginia. In the summer, Dillard stalks muskrats in the creek and contemplates wave mechanics; in the fall she watches a monarch butterfly migration and dreams of Arctic caribou. She tries to con a coot; she collects pond water and examines it under a microscope. She unties a snake skin, witnesses a flood, and plays 'King of the Meadow' with a field of grasshoppers.


---

Endpapers
We are excited to announce the launch of a new lecture series on the second Wednesday of the month that connects community members with distinguished individuals working in literature, popular culture and building a better Cleveland.
The Lure of the Short Story
Kyle Coma-Thompson and Justin Glanville
Wednesday, September 10, 2014 7-8:30 pm
~ second Wednesdays ~
What is it about the short story that continually attracts writers to try their best work in this format? What lucky strike is required for the condensed and succinct form? Kyle and Justin are both Ohio natives who appreciate the writer's rarest, hardest, most abbreviated form: the short story. Far be it from merely a student playground, the short story is the stuff of Pulitzers (John Cheever) and Nobels (Alice Munro). Come learn more from young writers who still work, read, and revere this smallest of literary masterpieces.


Blog
---
Author Alley
Saturday, July 5, 2014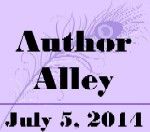 ---
Photo Albums
---
Annex Gallery
---
Most Requested
---
Book Club Members
---
Back in Print!
---
Catalogs
---
Otis' Old Curiosity Shop
a holiday shop

---
Edible Books Festival
Saturday, April 5

---