Author Alley 2012
Featured Authors and Their Books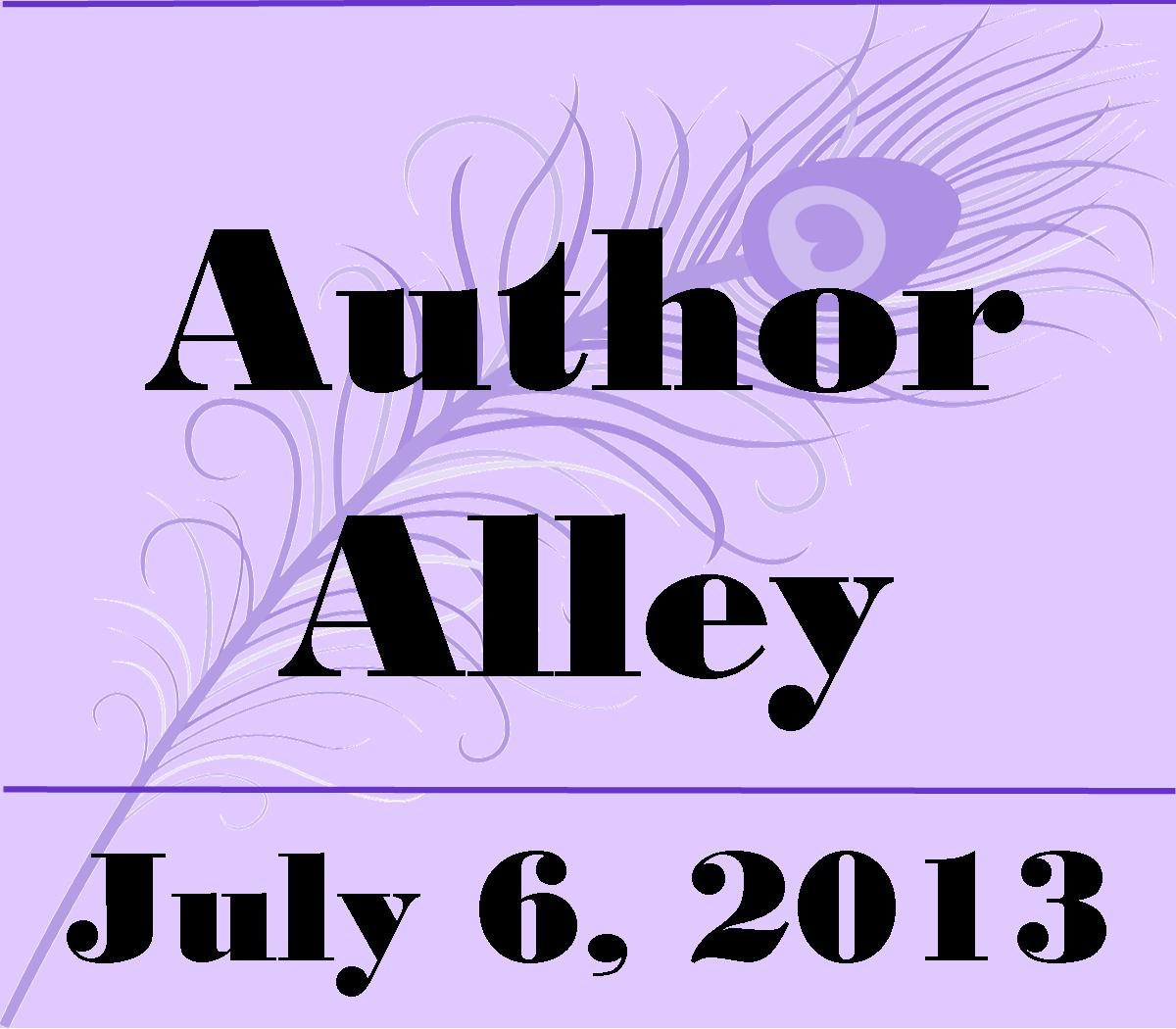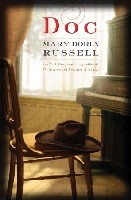 Mary Doria Russell
Doc
Thorndike, 2011. $30.99 (Hardcover)
Ballantine, 2012. $15 (Paperback)
The year is 1878, peak of the Texas cattle trade. The place is Dodge City, Kansas, a saloon-filled cow town jammed with liquored-up adolescent cowboys and young Irish hookers. Violence is random and routine, but when the burned body of a mixed-blood boy named Johnnie Sanders is discovered, his death shocks a part-time policeman named Wyatt Earp. And it is a matter of strangely personal importance to Doc Holliday, the frail twenty-six-year-old dentist who has just opened an office at No. 24 Dodge House.
Authentic, moving, and witty, Mary Doria Russell's fifth novel redefines these two towering figures of the American West and brings to life an extraordinary cast of historical characters, including Holliday's unforgettable companion, Kate. First and last, however, Doc is John Henry Holliday's story, written with compassion, humor, and respect by one of our greatest contemporary storytellers.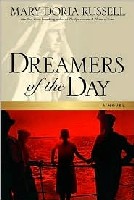 Dreamers of the Day
Ballantine, 2008. $15
A forty-year-old schoolteacher from Ohio still reeling from the tragedies of the Great War and the influenza epidemic, Agnes has come into a modest inheritance that allows her to take the trip of a lifetime to Egypt and the Holy Land. Arriving at the Semiramis Hotel just as the Peace Conference convenes, Agnes, with her plainspoken American opinions–and a small, noisy dachshund named Rosie–enters into the company of the historic luminaries who will, in the space of a few days at a hotel in Cairo, invent the nations of Iraq, Syria, Lebanon, Israel, and Jordan.
Neither a pawn nor a participant at the conference, Agnes is ostensibly insignificant, and that makes her a welcome sounding board for Churchill, Lawrence, and Bell. It also makes her unexpectedly attractive to the charismatic German spy Karl Weilbacher. As Agnes observes the tumultuous inner workings of nation-building, she is drawn more and more deeply into geopolitical intrigue and toward a personal awakening.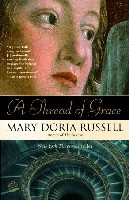 A Thread of Grace
Ballantine, $15
Set in Italy during the dramatic finale of World War II, this new novel is the first in seven years by the bestselling author of The Sparrow and Children of God. It is September 8, 1943, and fourteen-year-old Claudette Blum is learning Italian with a suitcase in her hand. She and her father are among the thousands of Jewish refugees scrambling over the Alps toward Italy, where they hope to be safe at last, now that the Italians have broken with Germany and made a separate peace with the Allies. The Blums will soon discover that Italy is anything but peaceful, as it becomes overnight an open battleground among the Nazis, the Allies, resistance fighters, Jews in hiding, and ordinary Italian civilians trying to survive. Mary Doria Russell sets her first historical novel against this dramatic background, tracing the lives of a handful of fascinating characters. Through them, she tells the little-known but true story of the network of Italian citizens who saved the lives of forty-three thousand Jews during the war's final phase. The result of five years of meticulous research, A Thread of Grace is an ambitious, engrossing novel of ideas, history, and marvelous characters that will please Russell's many fans and earn her even more.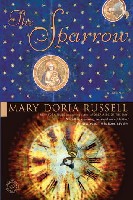 The Sparrow
Ballantine, $15
It was predictable, in hindsight. Everything about the history of the Society of Jesus bespoke deft and efficient action, exploration and research. During what Europeans were pleased to call the Age of Discovery, Jesuit priests were never more than a year or two behind the men who made initial contact with previously unknown peoples; indeed, Jesuits were often the vanguard of exploration. The United Nations required years to come to a decision that the Society of Jesus reached in ten days. In New York, diplomats debated long and hard, with many recesses and tablings of the issue, whether and why human resources should be expended in an attempt to contact the world that would become known as Rakhat when there were so many pressing needs on Earth. In Rome, the questions were not whether or why but how soon the mission could be attempted and whom to send. The Society asked leave of no temporal government. It acted on its own principles, with its own assets, on Papal authority. The mission to Rakhat was undertaken not so much secretly as privately – a fine distinction but one that the Society felt no compulsion to explain or justify when the news broke several years later. The Jesuit scientists went to learn, not to proselytize. They went so that they might come to know and love God's other children. They went for the reason Jesuits have always gone to the furthest frontiers of human exploration. They went ad majorem Dei gloriam: for the greater glory of God. They meant no harm.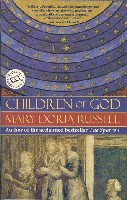 Children of God
Ballantine, $15
Mary Doria Russell's debut novel, The Sparrow, took us on a journey to a distant planet and into the center of the human soul. A critically acclaimed bestseller, The Sparrow was chosen as one of Entertainment Weekly's Ten Best Books of the Year, a finalist for the Book-of-the-Month Club's First Fiction Prize and the winner of the James M. Tiptree Memorial Award. Now, in Children of God, Russell further establishes herself as one of the most innovative, entertaining and philosophically provocative novelists writing today. The only member of the original mission to the planet Rakhat to return to Earth, Father Emilio Sandoz has barely begun to recover from his ordeal when the Society of Jesus calls upon him for help in preparing for another mission to Alpha Centauri. Despite his objections and fear, he cannot escape his past or the future. Old friends, new discoveries and difficult questions await Emilio as he struggles for inner peace and understanding in a moral...
---

Tom Acierno
A Whisper in God's Ear
Arbor Books, 2008. HB $12, PB $7.
This book tells the story of the author's spiritual journey from being a Catholic to asking questions that take him outside of the church and outside organized religion. It answers the complex questions of life, karma, reincarnation, the existence of God, and ultimately; what happens after we die.
---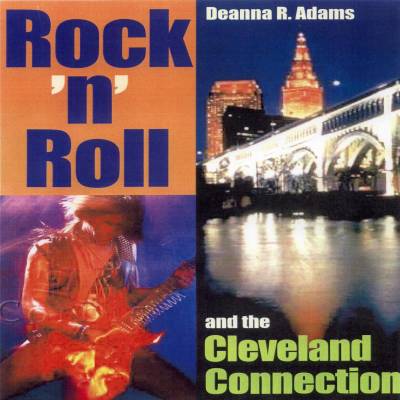 Deanna R. Adams
Rock 'n' Roll and the Cleveland Connection
Kent State University Press, 2002, $39.99
It's no wonder Cleveland is home to the internationally famous Rock and Roll Hall of Fame—Cleveland disk jockey Alan Freed coined the phrase for this new musical phenomenon nearly 50 years ago; Casey Kasem fine-tuned his long-running broadcasting career in Cleveland; and Cleveland witnessed the rise of such widely recognized groups as the James Gang, the Outsiders, Damnation of Adam Blessing, and the Raspberries. Nearby Canton gave us the O'Jays, and Akron spawned Devo and Chrissie Hynde of the Pretenders. And the rock concert was practically invented in Cleveland in 1952, when Alan Freed convened the first Moondog Coronation Ball. By the 1970s Cleveland had become a proving ground for superstars in the making. "Rock 'n' Roll and the Cleveland Connection" is the first in-depth look at the people, venues, and artists that made Cleveland the "Rock 'n' Roll Capital of the World."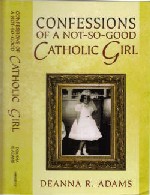 Confessions of a Not-So-Good Catholic Girl
Infinity Press, 2008, $19.99
Confessions of a Not-So-Good Catholic Girl is a collection of true tales about growing up a baby boomer in the Midwest. These coming-of-age stories, wide ranging in subject matter, are slices of life, experiences most of us share: internal conflicts, personal relationships, life-altering moments—whether you grew up Catholic or not. Weave in historic events and pop culture trends and you have a book of nostalgic adventures that will evoke your own life memories—with laughter, warmth, and fond reflection.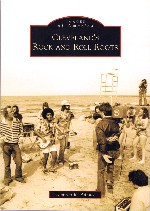 Cleveland's Rock and Roll Roots
Arcadia Publishing, 2010, $21.99
Ever since Cleveland disc jockey Alan Freed first called the records he was playing "rock and roll," northeast Ohio has been a driving force in this musical phenomenon. From the disc jockeys who spun the music to the musicians who played it, the clubs that welcomed it and fans who encouraged it, rock and roll has been as much a part of this north coast as the lake that hugs it. It was those early years, from the 1950s on, that led Cleveland to becoming the "Rock and Roll Capital of the World" and ultimately home to the Rock and Roll Hall of Fame and Museum. While the city spawned several widely recognized names, such as the James Gang (with Joe Walsh), the Raspberries (with Eric Carmen), and Bobby Womack, it is the music itself that will keep this town rocking on the shores of Lake Erie, and beyond, for a long time to come.
---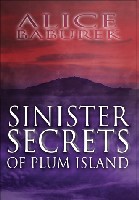 Alice Baburek
Sinister Secrets of Plum Island
$19.95
Plum Island: a remote island located near the northeast coast of Long Island in the state of New York. Known to most as a federal research facility dedicated to the studies of animal diseases in the United States. Or is it?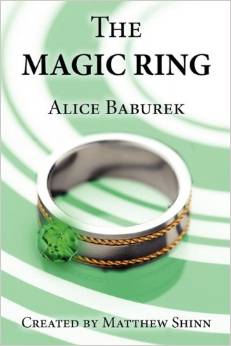 The Magic Ring
$16.95
Come take an exciting journey with Mathew as he discovers a magical ring inside a worn out trunk hidden in the attic. The mysterious green gem holds special powers as it transports him through space back to his old bedroom, where he meets a little girl, Caroline, who as moved into Mathew's old house. She too discovers the magic of the ring as she befriends Mathew.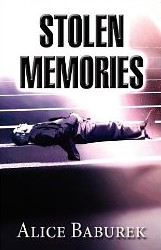 Stolen Memories
$24.95
What if one day you woke up with someone else's memories? Remembering people's names and faces who do not know you even exist. Unknown places never visited before until now.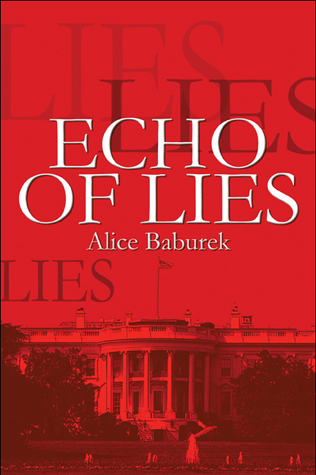 Echo of Lies
PublishAmerica, 2009, $24.95
Echo of Lies carries the reader away on a treacherous journey inside the personal lives of three influential and powerful women. It is through their intense determination to seek out justice that forbidden doors are opened and evil silently unfolds into a nightmare filled with deceit and lies.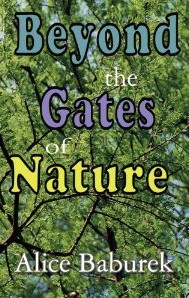 Beyond the Gates of Nature
$24.95
What prompts an upstanding detective to unexpectedly turn the other cheek to the call of justice? Or a headstrong, devoted mother to suddenly succumb to the evils of addiction? How about a dedicated veterinarian, who devoted her entire life to caring for animals, only to be defeated and fall prey to a terminal illness?
---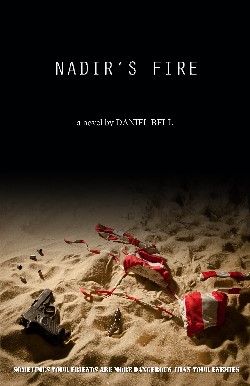 Daniel Bell
Nadir's Fire
Dog Ear Publishing, 2008. $14.95
Pilot Vincent Ten Ponies has no problems when he is flying. But when he lands, his shady and eccentric employer Clive MacLeod gives him all he can handle, including two newly recruited college dropouts, Jim and Macy. It falls to Vince to keep Jim, the naive giant, alive; Macy, his dysfunctional girlfriend, in check; and all of them out of prison. In just a few months he can afford his own plane and work for himself -- if his boss and new coworkers don't get him killed first.
---

Gail Ghetia Bellamy
Cleveland Food Memories
Gray & Co., 2003. $17.95
Remember when food was local?
…when Cleveland companies made it, and local people sold it and ran the restaurants where we ate it?
Food makes powerful memories. Just mention Hough Bakeries and see how quickly we Clevelanders start to drool over just the thought of those long-lost white cakes. This book collects the fondest memories of fellow Clevelanders who all share an ache for treats from the past. There were Frostees in Higbees' basement. Popcorn balls at Euclid Beach. Burgers at Manners or Mawby's or Kenny King's. Entertainment-filled nights at Alpine Village. Mustard at old Municipal Stadium… and so much more. Look inside and rediscover some of your own favorite local flavors!
---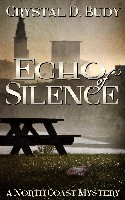 Crystal Budy
Echo of Silence
CreateSpace, 2012. $10
Special Agent Rob Karlton is brilliant, dedicated, and tries hard at whatever he does. He's also stubborn, sarcastic, and spends much of his time pissing a lot of people off. A tragic past has left him bitter and contemptuous toward women and life in general and his attitude doesn't rub well with a lot of people. One of those people is his new boss, Lilah Matthews. Rob is horrified that his new boss is a woman and makes no bones about expressing that opinion. Lilah has no problem taking none of his crap and giving his attitude back to him tenfold.When 13-year-old Cassie Phelps gets swiped off the street on her way to school by men in ski masks, Rob is placed on the task force to help find her. When he discovers that Cassie and her parents didn't exist before 2004, he's dead-set determined to find out the story behind it. What he uncovers goes much deeper than anything he could have ever imagined.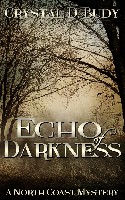 Echo of Darkness
CreateSpace, 2012. $10
Special Agent Stevie Winters has recently transferred into the violent crimes unit of the FBI's Cleveland division, a boys club where her presence is not welcome with open arms. On her second day, Stevie is thrown into her first homicide investigation when a case from the past comes back to haunt the unit and a serial killer they never caught starts killing again. The switch from cyber crimes to violent crimes will come as more than just a culture shock as Stevie finds herself in the crossfire between a crazed suspect and the sociopathic murderer, catapulting her into the undesirable position of becoming the next victim.
---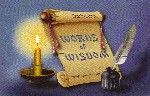 Kenneth Cash
Words of Wisdom
Seekers Publishing, 2010. $9.95
Words of Wisdom is a collection of 157 potent, thought-provoking assertions to assist in successfully navigating life.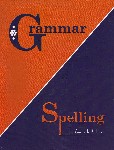 Grammar and Spelling
Seekers Publishing, 2010. $11.95
This publication will clarify many grammatical and mechanical usages and clear up the spelling of plenty of confusing words to help you improve your writing.
Essay Writing
Seekers Publishing, 2008. $39.95
Essay Writing is an exceedingly useful tool that assists students by providing them with professionally written model essays in nine modes with accompanying outlines and brief, easy-to-follow explanation plus much more valuable essay-related information.
---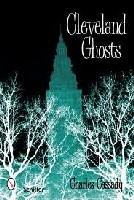 Charles Cassady
Cleveland Ghosts
Schiffer Books, 2008. $14.99
A ghost's work is never done in Cleveland, Ohio. Within these pages abide tall tales and myths, documented reports, and weird stories of the unspeakable. Learn about Melonheads, Gore Orphanage, and the curse of the Franklin Castle. Visit a ghost that stops a train (repeatedly), a phantom black dog that sinks ships, and a bloody, clutching hand that terrorizes a family. For the skeptic, the seeker, the storyteller, and the weekend spook-hunter, learn why the "Best things in death are right here in Cleveland."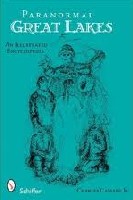 Paranormal Great Lakes
Schiffer Books, 2009. $14.99
The first A-to-Z listing of extraordinary, supernatural, paranormal, and Fortean/inexplicable phenomena on the American Great Lakes. These five majestic freshwater seas—Lakes Superior, Huron, Erie, Michigan and Ontario—have hosted a treasure-trove of fantastic sailors' tales, mysteries, and legends. Here abide the long-standing rumors, myths and lore about mermaids, ghost ships, lake monsters, UFOs, USOs, vortices and triangles, Flying Dutchmen, wendigos, spook lights, haunted lighthouses, headless apparitions, melancholy mist-maidens, curses, talismans, thunderbirds, and sorcerers. Presented for the traveler, folklorist, ghost-buster, skeptic, cryptozoologist, or the just plain curious.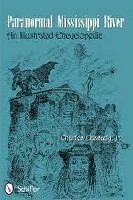 Paranormal Mississippi River
Schiffer Books, 2011. $24.99
Tour the mighty Mississippi River with this first A-Z encyclopedia-style listing of paranormal phenomena along its winding length. Presented in a convenient, cross-referenced format, these pages are an indispensable guide of the supernatural for the curious traveler, brave riverboat pilot, ghost-folklore buff, aspiring vampire slayer, and dedicated UFO chaser. Learn how to distinguish hoodoo from Voodoo and examine posthumous perambulations and visitations of the pirate Jean Lafitte. Find out about the domain and habits of devil babies and grunch, assess haunted plantations and mansions, and chart prominent water-monster hazards. Please note, though, that the root work conjure-spells, blues-musician pacts with the devil, loup-garou assemblies, Bigfoot-trackings, Judas Eyes, and exorcism rituals are offered for entertainment and historical enlightenment only, and because dangerous, should not be undertaken by amateurs. So take a ride down the mighty Mississippi and experience the paranormal for yourself!
---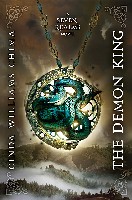 Cinda Williams Chima
The Demon King
Hyperion, 2010. $9.99
One day Han Alister catches three young wizard setting fire to the sacred mountain of Hanalea. Han takes an amulet away from Micah Bayar, son of the High Wizard, to ensure the boy won't use it against him. The amulet once belonged to the Demon King, who nearly destroyed the world a millennium ago. With a magical piece so powerful at stake, Han knows that the Bayars will stop at nothing to get it back. Meanwhile, Princess Raisa ana'Marianna has her own battle to fight. She's just returned to court after three years of riding and hunting with her father's family. Raia aspires to be like Hanalea, the legendary warrior queen who killed the Demon King and saved the world. But it seems that her mother has other plans for her—plans that include a suitor who goes against everything the Queendom stands for.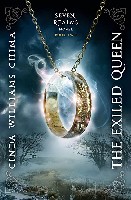 The Exiled Queen
Hyperion, 2011. $9.99
Haunted by the loss of his mother and sister, Han Alister journeys south to begin his schooling at Mystwerk House in Oden's Ford. But leaving the Fells doesn't mean that danger isn't far behind. Han is hunted every step of the way by the Bayars, a powerful wizarding family set on reclaiming the amulet Han stole from them. And Mystwerk House has dangers of its own. There, Han meets Crow, a mysterious wizard who agrees to tutor Han in the darker parts of sorcery—but the bargain they make is one Han may regret. Meanwhile, Princess Raisa ana'Marianna runs from a forced marriage in the Fells, accompanied by her friend Amon and his triple of cadets. Now, the safest place for Raisa is Wein House, the military academy at Oden's Ford. If Raisa can pass as a regular student, Wein House will offer both sanctuary and the education Raisa needs to succeed as the next Gray Wolf queen. Everything changes when Han and Raisa's paths cross, in this epic tale of uncertain friendships, cut-throat politics, and the irresistible power of attraction.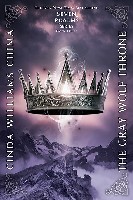 The Gray Wolf Throne
Hyperion, 2011. $17.99
Han Alister thought he had already lost everyone he loved. But when he finds his friend Rebecca Morley near death in the Spirit Mountains, Han knows that nothing matters more than saving her. The costs of his efforts are steep, but nothing can prepare him for what he soon discovers: the beautiful, mysterious girl he knew as Rebecca is none other than Raisa ana'Marianna, heir to the Queendom of the Fells. Han is hurt and betrayed. He knows he has no future with a blueblood. And, as far as he's concerned, the princess's family killed his own mother and sister. But if Han is to fulfill his end of an old bargain, he must do everything in his power to see Raisa crowned queen. Meanwhile, some people will stop at nothing to prevent Raisa from ascending. With each attempt on her life, she wonders how long it will be before her enemies succeed. Her heart tells her that the thief-turned-wizard Han Alister can be trusted. She wants to believe it—he's saved her life more than once. But with danger coming at her from every direction, Raisa can only rely on her wits and her iron-hard will to survive—and even that might not be enough. The Gray Wolf Throne is an epic tale of fierce loyalty, unbearable sacrifice, and the heartless hand of fate.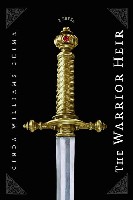 The Warrior Heir
Hyperion, 2007. $8.99
Before he knew about the Roses, 16-year-old Jack lived an unremarkable life in the small Ohio town of Trinity. Only the medicine he has to take daily and the thick scar above his heart set him apart from the other high-schoolers. Then one day Jack skips his medicine. Suddenly, he is stronger, fiercer, and more confident than ever before. And it feels great—until he loses control of his own strength and nearly kills another player during soccer team tryouts. Soon, Jack learns the startling truth about himself: He is Weirlind; part of an underground society of magical people who live among us. At the head of this magical society sit the feuding houses of the Red Rose and the White Rose, whose power is determined by playing The Game—a magical tournament in which each house sponsors a warrior to fight to the death. The winning house rules the Weir. As if his bizarre magical heritage isn't enough, Jack finds out that he's not just another member of Weirlind—he's one of the last of the warriors—at a time when both houses are scouting for a player.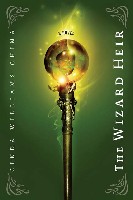 The Wizard Heir
Hyperion, 2008. $8.99
Sixteen-year-old Seph McCauley has spent the past three years getting kicked out of one exclusive private school after another. And it's not his attitude that's the problem. It's the trail of magical accidents—lately, disasters—that follow in his wake. Seph is a wizard, orphaned and untrained--and his powers are escalating out of control. After causing a tragic fire at an after-hours party, Seph is sent to the Havens, a secluded boys' school on the coast of Maine. At first, it seems like the answer to his prayers. Gregory Leicester, the headmaster, promises to train Seph in magic and initiate him into his mysterious order of wizards. But Seph's enthusiasm dampens when he learns that training comes at a steep cost, and that Leicester plans to use his students' powers to serve his own dangerous agenda. In this companion novel to the exciting fantasy The Warrior Heir, everyone's got a secret to keep: Jason Haley, a fellow student who's been warned to keep away from Seph; the enchanter Linda Downey, who knew his parents; the rogue wizard Leander Hastings, and the warriors Jack Swift and Ellen Stephenson. This wizard war is one that Seph may not have the strength to survive.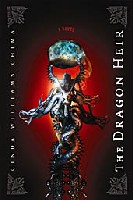 The Dragon Heir
Hyperion, 2009. $9.99
The covenant that was meant to keep the wizard wars at bay has been stolen, and Trinity must prepare for attack. Everyone is doing their part -- Seph is monitoring the Weirwalls; Jack and Ellen are training their ghostly army; even Anaweir Will and Fitch are setting booby traps around the town's perimeter. But to Jason Haley, it seems like everyone wants to keep him out of the action. He may not be the most powerful wizard in Trinity, but he's prepared to fight for his friends. When Jason finds a powerful talisman --a huge opal called the Dragonheart--buried in a cave, his role takes on new importance. The stone seems to sing to Jason's very soul -- showing him that he is meant for more than anyone guessed. Trinity's guardians take the stone away after they realize that it may be a weapon powerful enough to save them all. Without any significant power of his own, and now without the stone, what can Jason possibly do to help the people he cares about -- and to prove his mettle? Madison Moss can feel the beating heart of the opal, too. The desire for it surges through her, drawing her to it. But Maddie has other things besides the Dragonheart on her mind. She has a secret. Ever since absorbing the magical blow that was meant to kill Seph, she's been leaking dark powers. Although Maddie herself is immune to magic, what would her friends think if they knew what kind of evil lay within her? Trinity's enemies are as enthusiastic about her powers as she is frightened. They think they can use her to get to the Dragonheart -- and they'll use anyone Maddie cares about to make her steal the stone for them.
Moral compasses spin out of control as a final battle storms through what was once a sanctuary for the gifted. With so much to lose, what will Jason and Maddie be willing to fight for -- and what will they sacrifice? Every man is for himself in this thrilling conclusion to the Heir trilogy.
---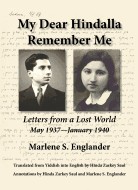 Marlene S. Englander and Hinda Zarkey Saul
My Dear Hindalla, Remember Me: Letters from a Lost World, May 1937-January 1940
Windjammer Adventure Publishing, 2012. $34.95.
What was everyday life like in the late 1930s before World War II and the Holocaust? How did friendships endure? Meet Hinda, a teenager trying to adjust to her new life in Cleveland, and Berman, her friend who remains in Lithuania, hoping to come to America. Through his letters to her, their friendship unfolds -- a friendship based on shared values and hope for the future. Their correspondence is a refuge from everyday trouble and challenges as the comfortable life they once knew is unraveling. This book is a tribute to their friendship and a testament to the rich heritage of a world that is lost but not forgotten.
---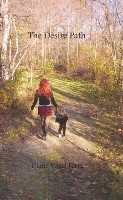 Diane Vogel Ferri
The Desire Path
Ferritales Publishing, 2011. $10
The Desire Path is a story for anyone who has ever felt like a misfit in the world. It is a story of one mother's sacrificial love and another woman's failure to love unconditionally. It explores the themes of family versus biology, the damage of estrangement, and ultimately, forgiveness and reconciliation.
---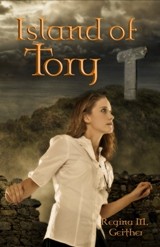 Regina M. Geither
Island of Tory
Loconeal Publishing, 2012. $11.95
When sixteen year old Arella Cline's summer vacation begins with the tragic death of her parents, she is sent to live with her aunt to being a new life on a remote island off the western coast of Ireland. But there are strange things happening on Tory Island -- shadow figures, mysterious auras, and the haunting sound of her deceased parents' voices.
---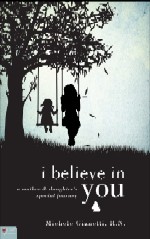 Michelle Gianetti
I Believe in You: A Mother and Daughter's Special Journey
Tate Publishing, 2012. $15.99
As the veil of denial is slowly lifted, author Michele Gianetti faces up to the fact that something is terribly wrong with her beautiful baby Elizabeth.She never once asks God why; rather she trusts in Him to show her the way and give her the strength to fight for little Elizabeth in every way possible. Join her in I Believe In You as she travels a road unfamiliar to most parents, into Elizabeth's world, the world of dyspraxia and sensory processing disorder, and meet the wonderful group of individuals, both therapists and friends, who help her on her journey. Her devotion to Elizabeth proves there are some things that withstand even the greatest challenge: a mother's love and the words 'I believe in you.'
---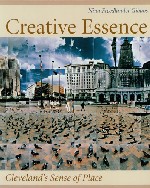 Nina Gibans
Creative Essence: Cleveland's Sense of Place
Kent State University Press, 2005. $29.95
Arising out of the Cleveland Artists Foundation's Dialogue Series, a 22-hour-long collection of forums held in cultural institutions and broadcast on National Public Radio, Creative Essence examines regional culture through an exploration of the distinguished contributions Cleveland has made to the visual arts and architecture. The Dialogue Series brought together a variety of people in the visual arts community to discuss the development of the region's creative life and environment, whether it be through architecture and city planning or through the industrial and fine arts. They shared their views and knowledge about how regionalism has long influenced artistic productivity. Their exchanges and ideas for the future are provocative and thoughtful. Richly illustrated with the work of well-known Cleveland-area artists and architects, past and present, Creative Essence explores the region's tradition, beginning with the "Cleveland School" of artists that was active and influential during the first half of the twentieth century. It moves on to examine the changes that occurred in the last half of the century and the development of the visual arts in northeast Ohio. Creative Essence is an important resource for understanding the significant role the visual arts play in our cities and societies and how they contribute to the region's quality of life. For those interested in regional history and for students of art history and the visual arts, this will be especially valuable.
---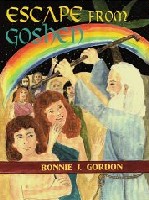 Bonnie J. Gordon
Escape from Goshen
Divine Voice Books, 2012. $9.99
In two weeks, Leah and Jacob will be slaves to Pharaoh. Only a miracle can save them now. Two more weeks of freedom. Two more weeks before they, too, face the blazing sun and the taskmasters' whips. But one night an old man with an odd name - Moshe - comes to Goshen. Strange things start happening. Has God remembered his people at last? Or will Moshe be a washout as a redeemer, just like all the others?
---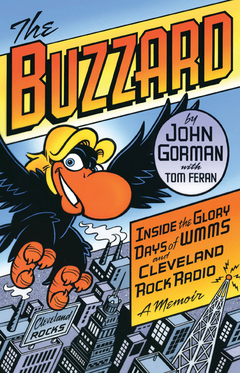 John Gorman
The Buzzard: Inside the Glory Days of WMMS and Cleveland Rock Radio
Gray & Co, 2008, $14.95
This rock and roll memoir takes you behind the scenes at the nation's hottest station during FM's heyday, from 1973 to 1986. Sex and drugs, music and merchandising -- it was a wild time when the FM airwaves were wide open for innovation. John Gorman led a small band of true believers who built Cleveland's WMMS from a neglected stepchild into influential powerhouse. The station earned high praise from musicians and even higher rating from listeners. Gorman tells how WMMS remade rock radio while Cleveland staked its claim as the "Rock and Roll Capital" by breaking many major international music acts. Filled with juicy details, this fast-paced story will entertain anyone who listened in during those glory days when FM delivered excitement and the Buzzard ruled the airwaves.
---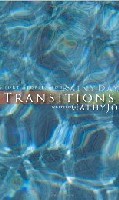 Cathy Jo Graves
Transitions: Short Stories for a Rainy Day
Twisted Word Publishing, 2011. $12
This book is an adult book for people between the ages of 18 and up. Meet some of the unforgettable characters in this "must read" collection of short stories:
Brianya Johnson is 353 pounds, in love with a man who makes fun of her weight, and full of Expectations.
Lonnie Parker, player extraordinaire didn't plan it, but he just got Caught! Can he live with the consequences?
Would you respond to a hot and steamy misdirected e-mail? Rita Collier did in E-Male.
The Innocence of a child is what makes four year-old Shelby ask: "Mommy, what's rape?" How would you respond?
Some people think Arlise is Three Cards Short of a Deck! What do you say?
Tamyla Bradford has a history of dating losers. Will she break the pattern and find a winner in Transitions?
Ever think about what your life could have been? In Reflections—In Memoriam that's just what the doctor orders.
When she finds out that her fiancé has been keeping deep, dark secrets from her, Cashmere Masters just might have to re-think her decision to marry Raymond Lesure in Think Again.
---

Carolyn Rose Hart
Step Up Step Out: Share Your Gifts and Be an Agent for Change
Spiritwise Publishing, 2012. $14.95
Carolyn sold her house in Cleveland to travel the world as an adventurous spirit, however the Universe had different plans for her. Connecting with people and programs in Uganda, Bali, Brazil, Ecuador, and many other places, she ultimately peeled layers off the onion of the child abuse she was suprressing. Through the clearing of the negative energy preventing her from expressing unique gifts, Carolyn has stepped up and stepped out to make a difference for all life on this planet. This is her wish for all survivors of child abuse and she discusses the possibilities in this new book about her journey.
---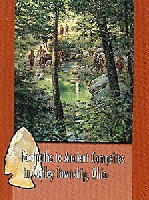 Robert D. Haag
Footpaths to Ancient Campsites in Copley Township Robert D. Haag, 2007. $24.95
Records this history of Indian trails and camps in Copley Township and the environmental change brought about by settlement. Contains pictures and descriptions of many artifacts collected by local farmers and collectors. The book includes four previously unpublished color maps of Indian trails surrounding Copley. Maps were created by Frank Wilcox, author of Ohio Indian Trails (1933).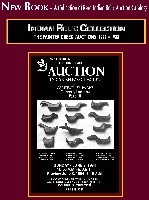 Indian Relic Collection: The Painter Creek Auctions, 1977-1988
Robert D. Haag, 2009. $40
The first in a three volume set, this book is a must have reference for collectors of prehistoric Indian art. Thousands of relics can be readily identified from the pictures within the catalogs. The sale catalogs also provide valuable information on many specific relics, as well as the evolution of the prehistoric Indian art market from the early 1970s to the present.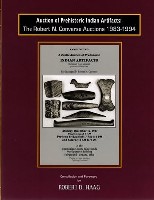 Auction of Prehistoric Indian Artifacts: The Robert N. Converse Auctions 1983-1994
Robert D. Haag, 2010. $40
The second in a three volume set, this book is a must have reference for collectors of prehistoric Indian art. Thousands of relics can be easily identified from the pictures in the catalogs. The sale catalogs also provide valuable information on specific relics. There are 30 catalogs in this collection including sale catalogs for John Sarnovsky, Jack Hooks and many other notable collectors.
Unrestricted Indian Relic Auction: The Garth's Auctions, 1972-1990
Robert D. Haag, 2011. $40
The third and final in a three volume set, this volume contains the Garth's Auction catalogs, 1972-1990. There are 35 catalogs in this collection including sale catalogs for the Meuser, Shipley, Phillips, Ahlstrom and other notable collector sales.
---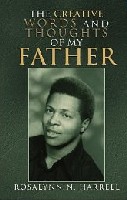 Rosalynn N. Harrell
The Creative Words and Thoughts of My Father
Xlibris Publishing, 2010. $19.99
A book of poetry, lyrics, and short stories which were originally written by Harrell's father and completed by Harrell after his unexpected passing.
---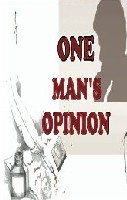 VaShawn Head
One Man's Opinion
CreateSpace, 2011. $9.99
One Man's Opinion is a collection of thought-provoking and emotionally stirring stories and poems that will encourage the reader think outside the box.
---

Michael Heaton
Truth and Justice for Fun and Profit
Gray & Co., 2007
The first collection of feature-length reporting from one of Cleveland's favorite print journalists. (Foreword by Joe Eszterhas.) Michael Heaton has reported on as wide a range of stories as any active Cleveland journalist. On any given day his byline might appear in any section of the Plain Dealer, where he is a regular columnist and reporter. To get the story he has put on boxing gloves and entered the ring, and gone undercover with the FBI and mob informants. He has interviewed chefs and coroners, gypsies and priests. This collection of 40 newspaper and magazine stories shows Heaton's Cleveland to be a crazy quilt of bold schemes, failed dreams, and colorful characters. (Heaton is the brother of actress Patricia Heaton and son of sportswriter Chuck Heaton.)
---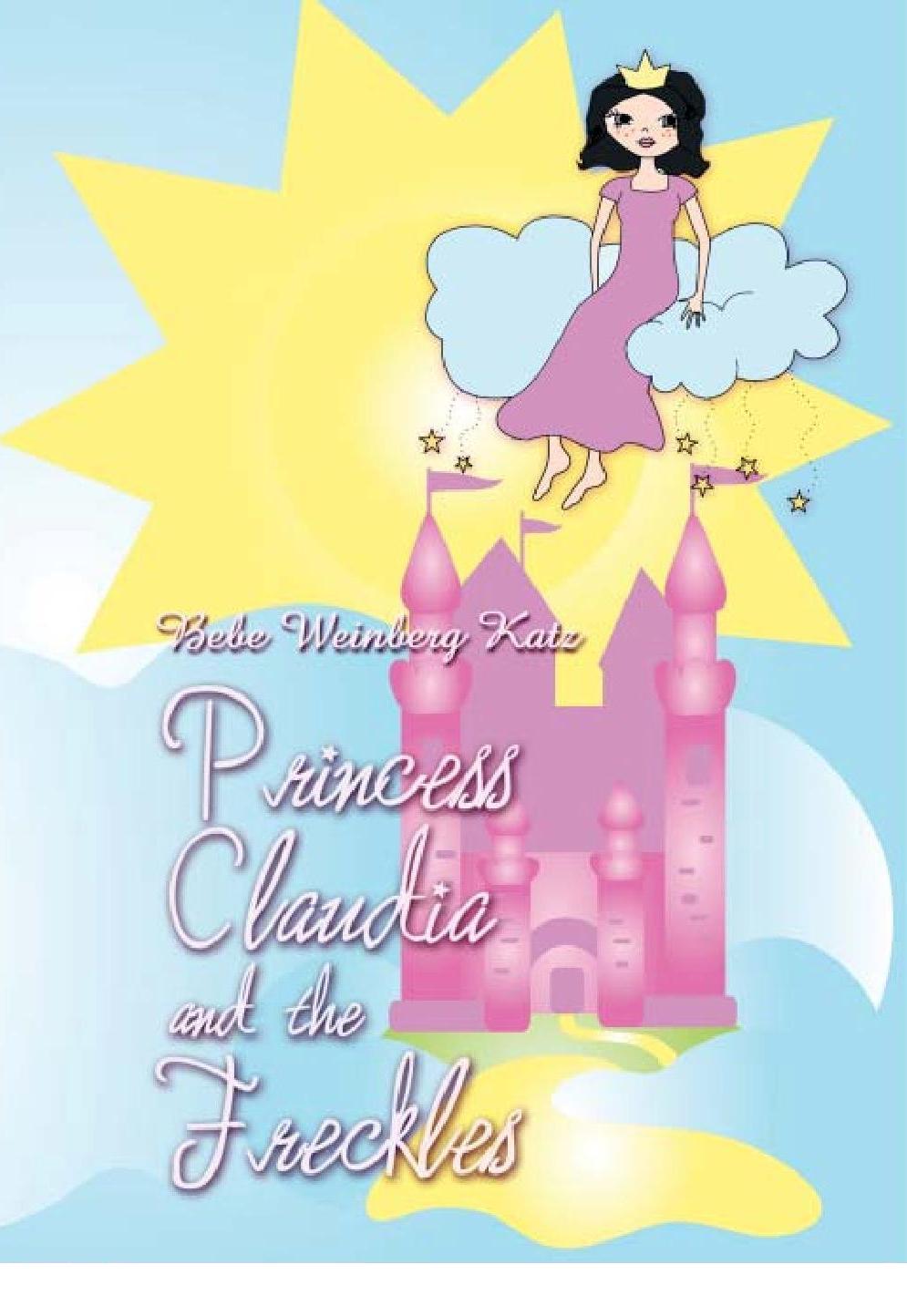 Bebe Weinberg Katz
Princess Claudia and the Freckles
PublishAmerica, 2007. $10
When you are a seven-year-old girl, everything your older sister says has the power to make or ruin your day. That is exactly what happens to Princess Claudia one Saturday morning, when her older sister, Princess Elizabeth, makes fun of Claudia's freckles. This is the story of Claudia's attempt to get rid of the dreaded freckles. Claudia enlists the aid of her Uncle Ouf, who is the castle wizard. Together they try potions and lotions and brown bag magic, all aimed at getting rid of the freckles. Claudia learns that every action has a consequence. She also discovers that the magic that is inside of people is the strongest of all. Along the way, she has wonderful adventures with her family. And what happens to her freckles? That is the surprise.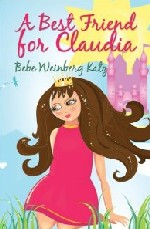 A Best Friend for Claudia
Publish America, 2008, $12
The summer that Princess Claudia turned eight years old she discovered that everyone who lived in the castle had a best friend but her. Her parents, her wizard uncle and even her sister, Princess Elizabeth, had best friends. How was this possible? Claudia was old enough to know that when you need to do something about something there is only one place to go and one person to see: the castle wizard, Uncle Ouf. With Ouf's magic to assist and a bit of help from Peach Fuzz, the cat, Claudia sets out on a mission to find a best friend. Claudia finds out that friendships are not always perfect and sometimes you have to be patient to get what you want. She also learns that if you listen, follow directions and open up your heart, things have a wonderful, perhaps even magical, way of working out.
---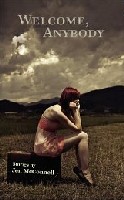 Jen McConnell
Welcome, Anybody
Press53, 2012. $14.95
A lonely woman imagines life with a dead cowboy; a trucker drops out of life for a weekend; a pregnant wife secretly employs feng shui to forestall the impending chaos. The vivid and sometimes heartbreaking stories in Welcome, Anybody progress from a hushed and profound despair to ones where hope, in some quiet form, begins to rise again.
---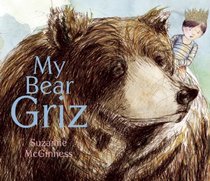 Suzanne McGinness
My Bear Griz
Frances & Lincoln Ltd., $17.95
Billy has a bear called Griz. A Grizzly Bear. And the two friends have all kinds of wonderful adventures together. They go exploring, they play hide and seek, they eat peanut butter and honey sandwiches, share secrets and tell jokes. They even go out at night to do some star-gazing - and their favourite constellation is the Great Bear of course. Griz is the best friend a boy could possibly have. And is he a real Grizzly Bear or a teddy bear? Well, that's for every reader to decide, but there are definitely big bear pawprints leading out of the book! This painterly picture book, with its spare text, including speech bubbles, and its wonderful full-page images of a very real bear, is an exciting debut by an American artist who studied illustration in the UK. It's a book for reading aloud to young children, but will be enjoyed equally by older children and adults.
---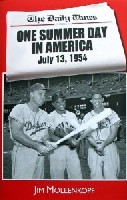 Jim Mollenkopf
One Summer Day in America
Lake of the Cat Publishing, 2010. $19.95
One Summer Day in America recalls a day in Cleveland an the country, July 13, 1954, the day the baseball All Star game was played in Cleveland during the game's golden age. The field was rich with legendary ballplayers destined for the Hall of Fame and histories and anecdotes of them are woven into a written replay of the contest. Cleveland was also in its golden age and the book examines events happening in both the city and the nation through the eyes of newspapers, revisiting the prosperity of the 1950s, optimism and fears of communism, and Cleveland's most sensation murder.
---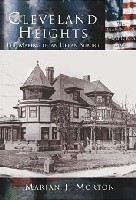 Marian J. Morton
Cleveland Heights: The Making of an Urban Suburb
Arcadia Publishing, 2002. $24.99
Now a bustling city of more than 50,000 residents, Cleveland Heights, situated just six miles from Cleveland's Public Square, boasts a history that begins well before its own incorporation. The region was once home to Native American tribes including the Erie and Seneca, and stalwart pioneers established settlements in the area as early as the late eighteenth century. In the post-Civil War period, as Cleveland was becoming an industrial metropolis, affluent residents began moving to the newly developed "garden suburbs," anxious to live closer to nature and farther from the smoky city and its increasingly diverse population. Born of this same desire, Cleveland Heights was founded in 1901. Here, in this isolated countryside owned by substantial families like the Silsbys, Minors, Comptons, and Taylors, entrepreneurs and city officials envisioned a clean and comfortable suburb for Cleveland's elite. Officially designated a city in 1921, Cleveland Heights quickly became not the homogenized suburb envisioned by early developers, but a community of widely divergent neighborhoods and people. Newcomers belonged to varying class, religious, ethnic, and racial backgrounds. A century after its founding, Cleveland Heights has become an "inner-ring urban suburb," boasting gracious homes of architectural distinction and attractive parks, but also facing the modern challenges of a dwindling population and commercial districts in need of economic revitalization. This new volume illustrates, in both word and image, the evolving life of Cleveland Heights from its beginning as part of East Cleveland Township, one of the region's first suburbs, to the present day.
---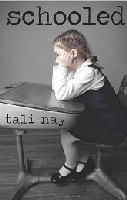 Tali Nay
Schooled
Corner Chapter Press, 2012. $13.50
"Do you have to have sex to have a baby?" It's a question that ten-year-old Tali Nay asked the office assistant at her elementary school after the woman had done her best to explain how it all happened to a roomful of confused girls. Or maybe Tali was the only one who was confused. It's entirely possible, for if there's anything she knew at this point in her schooling, it was that she—without fail—was the last to know about anything interesting. Take her first day of kindergarten, where it turned out that every other kid already knew which letters were the vowels. Her first lesson as a student was consequently one of humiliation, and her second—only slightly less important—was that puking in a classroom tends to start a chain reaction. A refreshingly honest deep-dive into what we actually take away from a public education, this hilarious and heartfelt memoir captures the things we learn in school that are never part of any lesson plan yet somehow have the biggest impact upon the shaping of our perceptions over the years we spend in a classroom. Things like competition, failure, scandal, popularity, disillusionment, triumph, guilt, and, of course, throwing up in public. From the glorious to the gloriously awkward, this everyman tale is a story of growing up, one semester at a time.
---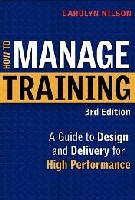 Carolyn Nilson
How to Manage Training
ASTD, $40.
Internationally recognized training expert Carolyn Nilson will offer these books at special Author Alley prices.
Already a classic in its field, this thoroughly-updated edition of the training manager's ultimate answer book gives readers clear guidance and techniques for accomplishing successful, cost-effective training. Readers will learn the steps for building and maintaining a training and development program, including how to: * assess the needs of participants * manage workshops for teams * train for innovation * monitor and evaluate the program How to Manage Training now features material on topics such as integrating e-learning into existing programs, as well as a comprehensive review of literature in the field of workplace learning. It is an immediately useful tool for anyone involved in managing training. This field-proven resource is packed with 200 easy-to-use forms, checklists, figures, and charts.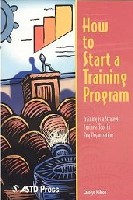 How to Start a Training Program
ASTD, $20.
Discover a proven way to start successful and cost-effective training programs that produce tangible bottom line results Follow along as you are guided through the steps for creating a business plan, developing standards and policies, and setting budgets.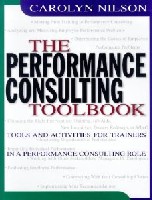 The Performance Consulting Toolbook
McGraw-Hill, $20.
Due to the costs of running the average training programme, trainers are being asked to move towards "performance consulting", advising clients on whether or not training is the most cost-effective solution to the problem. This text explores this shift from training to performance consulting.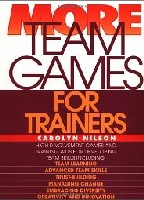 More Team Games for Trainers
McGraw-Hill, $15.
Finally--the next generation of team training games is here! Now that teams have been around for a few years, what have top training professionals learned about facilitating teams? What causes teams to fail, and how do you train to make sure that your teams don't? How can you keep your training exercises fresh, entertaining, and engaging when working with advanced teams who think they've "seen it all"? You'll find out in this long-awaited sequel to the bestselling manual, Team Games for Trainers. Based on a sophisticated new understanding of team dynamics gleaned from nearly a decade of experience with all sorts of workplace teams, this cutting-edge collection of training games draws on all the important changes and advances in the work teams movement since the publication of the first book. Here are 100 stimulating and easy-to-facilitate games, activities, and exercises you can use to: align individual and team goals; make diversity work; turn learning into doing; unleash team creativity and spark innovation; build teams that cope well with change; and much more!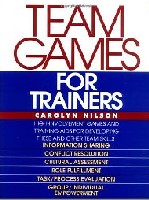 Team Games for Trainers
McGraw-Hill, $15.
Effective team building through training games. Carolyn Nilson's Training Games for Trainers reveals the fastest and most effective techniques to meet the demand for team-building in any organization. Over 100 ready-to-use games, exercises, and activities help you to build, implement and maintain work teams. Each game is self-contained­­with templates, answer sheets and explanations of objectives and procedures. You'll find games for: group/individual empowerment; organizational change readiness; personal skill building; work definition; role fulfillment; task/process evaluation; conflict resolution; much more.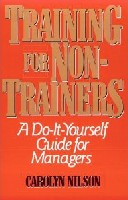 Training for Non-Trainers
AMACOM, $10.
As a manager, you may find youself in a new but uncomfortable role -- as a trainer of employees. What skills and knowledge do you need? How can you find time for training while juggling other management tasks?
---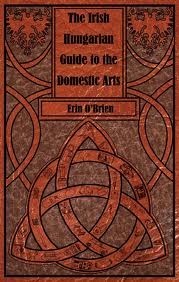 Erin O'Brien
The Irish Hungarian Guide to the Domestic Arts
Red Giant Books, 2012. $14
A misfit Irish-but-not-Catholic girl from Cleveland's west side, O'Brien is funny and sophisticated, projecting triumph through the lens of the domicile without blinking when sorrow fills the screen. The right measure of quirk and earthy sex separate this book from the Erma Bombeck set, while O'Brien's dry Midwest humor ties it all together.
---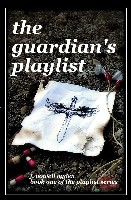 J. Powell Ogden
The Guardian's Playlist
Telemachus Press, 2012. $14.99
There's a new ghost in Cleveland! The Guardian's Playlist is about a teen from suburban Fairview Park who believes in angels, a ghost from the wrong side of town who believes in nothing, and a demon straight from hell intent on destroying them both.
---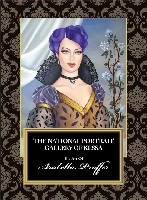 Arabella Proffer
The National Portrait Gallery of Kessa: The Art of Arabella Proffer
Cooperative Press, 2011. $31.95
The National Portrait Gallery of Kessa: The Art of Arabella Proffer is the first book from Cooperative Press' new art division. Taking inspiration from artists of the Renaissance to Rococo periods, contemporary artist Arabella Proffer has re-imagined the mannerist portrait with a pop surrealist twist. After researching fashion history, heraldry, and peerage protocol, she went on to create her own world parallel to that of old world Europe. Concocting a family legacy — ancestors that could belong to anyone – it has become an impulse and a passion the artist continues to explore, adding characters and stories to her ever-growing private empire of punks, goths, and nobility behaving badly. Included are over 40 portraits created between 2000 and 2011, their stories, family trees, map and more, as well as a foreword by Josh Geiser of Creep Machine and Paper Devil.
---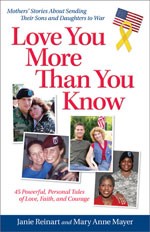 Janie Reinart
Love You More Than You Know (co-authored with Mary Anne Mayer)
Gray & Co., 2009. $14.95
In these stories, 45 mothers of U.S. service men and women open their hearts and share what it feels like when your son or daughter leaves home to fight a war.Some were stunned to learn one sunny afternoon that their baby had enlisted. Others had long been familiar with military life. But all of these mothers knew their world had just changed the day their child called home and said, Mom, I m being deployed . . . They discovered the strange mix of pride and fear. The anxiety of not knowing exactly where in Iraq or Afghanistan your son is, whether your daughter is facing mortar fire or enduring heat and boredom. Elation at the arrival of the briefest postcard or email message. The daily dread, when returning home from work or a trip to the grocery store, of seeing a government car in the driveway and two soldiers at the door . . .Any parent who reads these stories will feel their power--and will gain a greater understanding of the sacrifice made by parents as well as their children in our military.
---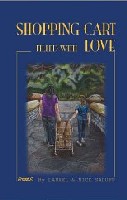 Nick and Laurel Salupo
Shopping Cart Filled with Love
Xlibris, 2012. $12.99
This work is a combination of hard work, grit, creative inspiration and a lot of help from friends and relatives who have encouraged, motivated and kept inspiring us to forge ahead at the most difficult times. This book is essentially a tribute to a special lady who touched many lives. It is also meant to be a special recognition piece to all the mothers raising children and secrificing every day to see that their children are safe, well-nurtured, and are moving along well on the difficult road to maturity. This nonfictional autobiographical account is dedicated to the loving memory of Ms. Doris Jeanette Kelley Wessel who has our unending, deepest respect and admiration.
---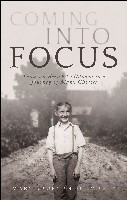 Mary Kaufman Schwartz
Coming into Focus: From an Amish Childhood to a Journey of Many Choices
Tate Publishing, 2012. $10.99
Amongst the largest Amish settlement in the world and a family of eight, you'll find Mary, dreaming of leaving the culture she was born into. Now Dr. Schwartz, she's written an open, honest story about her childhood and adolescence, revealing what inspired her to leave the Amish lifestyle.
Taking with her the lessons learned from her family and the support of her siblings, Mary tries to make a place for herself in a culture of which she knows so little. Experience the pain of prejudice and the triumph of new experiences through Mary's eyes in this bittersweet, colorful tale.
---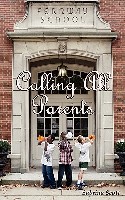 Sabrina Scott
Calling All Parents
Ilumina Press, 2010. $8.95.
Calling All Parents is about bringing awareness to the community regarding the importance of parent involvement in their children's education. It's about letting parents know that they should open or keep communication open with the teachers and schools.
---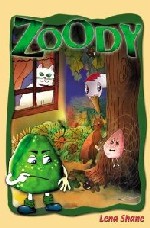 Lena Shane
Zoody
Bright Books Publishing, 2009. $15
From the stillness and solitude of the hot pavement, Zoody's life unfolds into a series of escapades. Zoody is a stone, so named by the woman in whose lap he lands one day as he is kicked from the sidewalk. Zoody has yet to discover his character.
---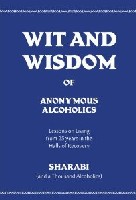 Sharabi
Wit & Wisdom of Anonymous Alcoholics
Alpine Lake Publishing, 2012. $29.95
Humor, psychology and spirituality come together in this entertaining and extensive collection of 3300+ anecdotes and insights into life from more than a thousand recovering alcoholics. Compiled over 25 years, this book shows diverse viewpoints, both reverential and rebellious, and provides an intimate view into the rooms of modern sobriety. It contains traditional faith-based perspectives as well as non-theistic, self-awareness approaches to 12 Step recovery. Appendices include historically significant letters highlighting the role of Carl Jung in the founding of AA, discussions of AA Steps and Traditions, and three insightful essays including, Do I need to believe in God to be in AA? Sharabi is the pen-name of a physicist-alcoholic forced into treatment by his corporate employers in 1985. Successfully sober since then, he has been exploring therapy and other healing traditions while attending regular AA meetings.
---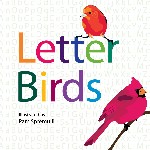 Pam Spremulli
Letter Birds
PublishingWorks, 2010, $14
Enjoy learning the alphabet and the natural world of birds via simple and colorful graphic illustrations. Each letter has a corresponding bird from the well-known C for Cardinal to the more exotic L for Lapwing. Children and parents will discover a wondrous array of birds from A to Z (yes, including X and U!).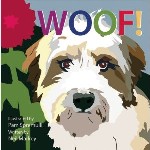 Woof!
Written by Neil Markey and Illustrated by Pam Spremulli
PublishingWorks, 2011. $14
A delightful introduction to a group of furry friends in a unique entertaining picture book. Fun, rhyming verses accompany colorful, graphically bold illustrations that give children insight into the different personalities of each breed of dog.
---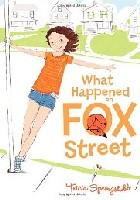 Tricia Springstubb
What Happened on Fox Street
Balzer & Bray, 2010. $15.99 hardcover; $5.99 paperback
Fox Street was a dead end. In Mo Wren's opinion, this was only one of many wonderful, distinguishing things about it. Mo lives on Fox Street with her dad and little sister, the Wild Child. Their house is in the middle of the block—right where a heart would be, if the street were a person. Fox Street has everything: a piano player, a fix-it man, the city's best burrito makers, a woman who cuts Mo's hair just right, not to mention a certain boy who wants to teach her how to skateboard. There's even a mean, spooky old lady, if ringing doorbells and running away, or leaving dead mice in mailboxes, is your idea of fun. Summers are Mo's favorite time, because her best friend, Mercedes, comes to stay. Most important, though, Fox Street is where all Mo's memories of her mother live. The idea of anything changing on Fox Street is unimaginable—until it isn't. This is the story of one unforgettable summer—a summer of alarming letters, mysterious errands, and surprising revelations—and how a tuft of bright red fur gives Mo the courage she needs.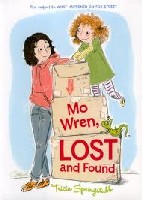 Mo Wren: Lost and Found
Balzer & Bray, 2011. $15.99
This is the story of what happened after Fox Street. Mo Wren knew that eventually she, her dad, and her sister, Wild Child Dottie, would have to move from beloved Fox Street. She just never expected it to happen so soon. At the Wrens' new place, things are very different. The name of the street—East 213th—has absolutely zero magic. And there's no Mrs. Petrone to cut her hair, no Pi Baggott to teach her how to skateboard, no Green Kingdom to explore. She's having trouble fitting in at her new school and spending a lot of time using the corner bus shelter for her Thinking Spot. Worst of all, Mo discovers that the ramshackle restaurant Mr. Wren bought is cursed. Only Dottie, with her new friends and pet lizard, Handsome, is doing the dance of joy. For the first time in her life, Mo feels lost and out of place. It's going to take a boy who tells whoppers, a Laundromat with a mysterious owner, a freak blizzard, and some courage to help her find her way home for good.
---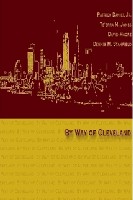 Dennis M. Stanfield
By Way of Cleveland
MarcMan Arts, 2010. $20
By Way of Cleveland is a compilation book of these four writers' ideas and thoughts. The back drop is the City of Cleveland, Ohio; or the 216. One way or another, the city has impacted these writers' lives and you'll be able to see that through their words. A strong sports town and well known historically, Cleveland has a lot to say through these artists. But it doesn't stop there. This book is dedicated to Cleveland, but Cleveland is only where the journey begins…
---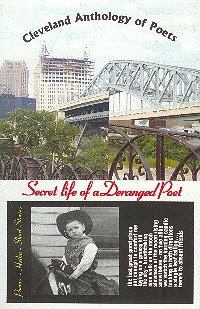 Vladimir Swirynsky
Church of the Backyard Fire
Bottom Dog Press, 2010. $15
Here are Vladimir's mature poems of Cleveland and the Midwest, of neighborhoods and the homeless, of Vietnam veterans and poets seeking a voice. "Each poem, it seems, more for the writer than the reader/listener, is a challenge not so much to comprehend the memory, the object, but to wrestle it, not really into submission but into some sort of cosmic draw, if you will, which is better than any of us do with life. Vladimir is in for the fight."-Dan Rourke
Sitting on the Concrete Ready to Saddle the Whirlwind
Bottom Dog Press, $9.95
Last Call to Escape Planet Earth
Bottom Dog Press, $14.95
Korean War
Bottom Dog Press, $12.95
---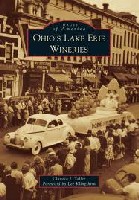 Claudia J. Taller
Ohio's Lake Erie Wineries
Arcadia, 2011. $21.99
Ohio's Lake Erie wineries and vineyards are rooted in tradition. European immigrants settled on the Lake Erie islands and nearby shoreline in the mid-1800s, and the grape industry flourished in Ohio into the early 20th century. Industrialization from Cleveland to Toledo swallowed up prime growing property along the lakeshore, but many farms continued to grow grapes. During Prohibition, wine making went underground. When it ended, restaurant owners bottled their own fortified wines and some of the wineries started mass producing wine with new equipment. The wines of Ohio, like those all over the eastern United States, were mostly sweet and made from native labrusca grapes. In the 1960s, Ohio's serious winemakers learned how to cultivate European-style vinifera grapes along Lake Erie's shore and on the islands. Chardonnay and cabernet sauvignon grapes now grow alongside Concord and Catawba. Today, more than 40 wineries stretch across northern Ohio.
---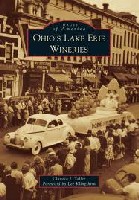 Claudia J. Taller
Ohio's Lake Erie Wineries
Arcadia, 2011. $21.99
Ohio's Lake Erie wineries and vineyards are rooted in tradition. European immigrants settled on the Lake Erie islands and nearby shoreline in the mid-1800s, and the grape industry flourished in Ohio into the early 20th century. Industrialization from Cleveland to Toledo swallowed up prime growing property along the lakeshore, but many farms continued to grow grapes. During Prohibition, wine making went underground. When it ended, restaurant owners bottled their own fortified wines and some of the wineries started mass producing wine with new equipment. The wines of Ohio, like those all over the eastern United States, were mostly sweet and made from native labrusca grapes. In the 1960s, Ohio's serious winemakers learned how to cultivate European-style vinifera grapes along Lake Erie's shore and on the islands. Chardonnay and cabernet sauvignon grapes now grow alongside Concord and Catawba. Today, more than 40 wineries stretch across northern Ohio.
---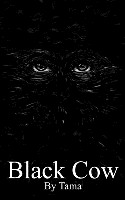 Tama
Black Cow
Author House, 2012. $15
Alec Dewalt thinks he is done spending time in the woods of northern Ohio when his summer job ends. But after a strange car crash, a unique girl enters his life and Alec is thrown into a mystery that makes him question his father's job, his grandfathers death and the woods around him. Native American folklore and government secrets combine when Alec explores the strange events that unfold right in his own backyard. Ultimately, Alec must decide the fate of ancient secrets that may change everything...
---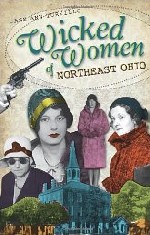 Jane Ann Turzillo
Wicked Women of Northeast Ohio
The History Press, 2011. $19.99
In Wicked Women of Northeast Ohio, author Jane Ann Turzillo recounts the misdeeds of ten dark-hearted women who refused to play by the rules. They unleashed their most base impulses using axes, guns, poison and more. You'll meet Perry's Velma West, a mere slip of a girl who was unfortunately too near a hammer during an argument. New Philadelphia's Ellen Athey--no lady herself--had a similar problem with an axe. Ardell Quinn, who operated the longest-running brothel in Cleveland, would simply argue that she was a good businesswoman. Grim? Often. Entertaining? Deliciously so.
---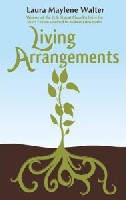 Laura Maylene Walter
Living Arrangements
BkMk Press, 2011. $15.95
This collection of 13 stories feature characters, especially young women, who redefine their sense of belonging by reconciling with their pasts. Whether it is a plain looking woman winning ungainly notoriety as a lingerie window model, a young figure skater being lured by a stalker, or a daughter examining her mother's accidental death at a horse farm, these stories' protagonists surprise themselves and the reader by finding their places in the world through unpredictable turns. Living Arrangements won the 2010 G.S. Sharat Chandra Prize for Short Fiction and a 2012 National Gold Independent Publisher Book Award.
---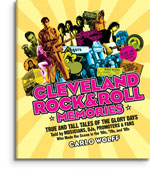 Carlo Wolff
Cleveland Rock & Roll Memories
Gray & Co., 2006. $19.95
Music fans who grew up with Rock and Roll in Cleveland remember a golden age. We were young, so was the music, and the sense of freedom and excitement the Rock and Roll scene delivered was electric. There were so many great clubs, like the Agora, where every big band seemed to break in the 1970s. The trendsetting radio stations, from A.M.'s WIXY 1260 to F.M.'s groundbreaking "Home of the Buzzard", WMMS. And all those memorable shows. The free Coffee Break Concerts--remember Springsteen just when he hit it big? The gigantic World Series of Rock. Nights on the lawn at Blossom (including local favorites the Michael Stanley Band and their record-setting sellout streak).This book collects the favorite memories of Clevelanders who made the scene: fans, musicians, DJs, reporters, club owners, and more. Includes rare photographs and other memorabilia such as concert posters, bumper stickers, pins, and ticket stubs.
---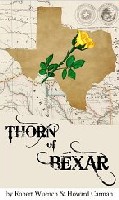 Robert L. Wuench
Thorn of Béxar (co-authored with Howard Carman)
Reelfoot Publishing, 2012. $12.95
With Thomas Jefferson's purchase of the Louisiana Territory from France and the American defeat of the British in the War of 1812, the most formidable obstacle to a growing United States that could one day stretch "from sea to shining sea" was Mexico. Almost inevitably between the War of 1812 and the Civil War came the War for Texas Independence and the Mexican-American War. Volunteers from Tennessee, Georgia and other states, immigrants and local militias, joined the Texas fight for independence. Sam Houston, David Crockett and Jim Bowie we recall as heros. General Lopez de Santa Anna, pirates Jean and Pierre Lafitte and their protégé Renato Beluche are remembered as villains. None were either as virtuous or as evil as their legends. Into this turbulent period came one mixed-race woman, largely ignored by historians, whose audacity and resourcefulness, some say, changed the course of Texas history. And her stunning beauty perhaps was responsible for one of America's most enduring folk melodies.
Author Alley Archives