Broadsides & Ephemera is a spoken word showcase of local writers, artists, and performers. A perfect environment for shaping, sharing, and improving your poetry, prose, song, theatre and performance art. Moderated by Loganberry's own Elijah Blumofe. Come one, come all!
Second Thursdays, 7:00 - 8:30 PM
We will be doing this event virtually until further notice. Our March 11th featured reader is a local favorite,
Doc Janning
! The Inaugural Poet Laureate of South Euclid, Doc has been published in eleven anthologies, including the latest, "Geography is Irrelevant, Poetry in Isolation," published by Stairwell Books of York, England. He is also very active in the poetry community as Host of Awenites and Moderator of Second Sunday Poets.
Zoom ID: 861 1869 1044 pw: weluvotis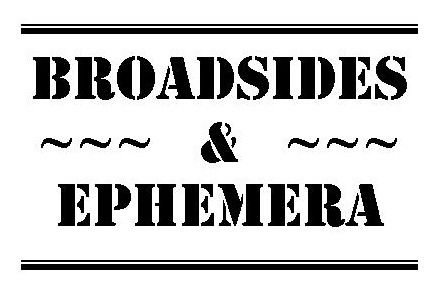 Open Mic Etiquette
Broadsides & Ephemera Open Mic hosted by Loganberry Books has a pleasantly open format. If you like to get up on stage to perform; poetry, prose, song, instrumentation, theater, dance, or performance art, join us and do your best when your name is called.
Follow the rules; the host is always right!

Each performer can sign up for one 3-minute time slot. Sign up will begin at 6:45 pm and the show starts at 7 pm. Once you have completed your registered 3 minutes if there are open time slots and you have more to share you may sign up for a second round. Unseen situations can arise, and as such, the host may have to bend the rules as she sees fit. Host has right of refusal. Host has the right to cut any performance short or limit the number of presentations.

Be Clean. Be Patient.

Loganberry Books is a place of business, open to friends and family of everyone. While we appreciate work with bite and edges, this is not the right environment for your edgier pieces. No profanities or nudity please. Remember, too, that not everyone is here for the Open Mic event; some folks may be here to purchase something from the LitArts room.

Be Prepared.

We are all amateurs, but even amateurs should be professional in their reading. Know exactly what you are going to read before you sign up. While this may be a great venue to read a work in progress and get needed feedback, don't read something you have not rehearsed on your own before this moment. Skip the poems that other people won't get. You don't have to be a theatrical slam poet with things memorized and people wondering where you studied acting. Just start with the basics of good reading: Don't mumble. Slow down. Look up from your paper. Avoid monotone and sing-song. Know when you're scheduled and be ready to get on and off the stage.

Be a good audience member.

Show support, show respect, and be polite. Listen to everyone else, or at least as many as you can.

Give constructive, specific feedback.

If you heard something you liked, make a point of telling the performer—and tell them why. What line stuck out? What did it make you feel/see/remember/understand? If you have a suggestion or critique, make it gently.

Take feedback gracefully.

If you're at an open mic, then you do care for others' opinions. Take in what people say, throw out what doesn't make sense to you, and revise. It's a rare performance that comes out perfect the first time.

Support the hosts!

Loganberry Books is an independent bookseller specializing in new, used, and rare books. Support for independent business is a great way to build community. Without your support we would not be able to bring you events like this one.

Have fun!

It all goes better with a sense of humor.