About the Authors
Wende and Harry Devlin (both born in 1918 and married in 1941) are two artists with a sense of humor. Working for several magazines in the 1940's, Harry became the leading editorial cartoonist at Collier's while Wende wrote a comic strip called Fullhouse (also known as Raggmopp) with characters named for their own six children. On the serious side, Harry paints architecture and Wende portraits, but their winning combination in children's books and illustrations (and perhaps recipes?) is their best known artistic achievement, and most especially the Cranberryport series.
Loganberry Legacy
Sometimes people request a book called The Blueberry Pancake Witch. What they mean, of course is Old Black Witch. Does she make Blueberry Pancakes? You betcha, the best in town! And that assures that she isn't kicked out of the house she haunts and that the new owners' "Jug and Muffin" tearoom makes enough money to stay there too. Rent for all!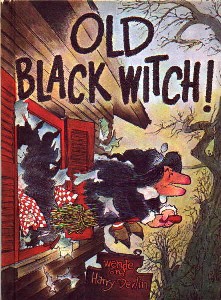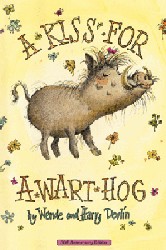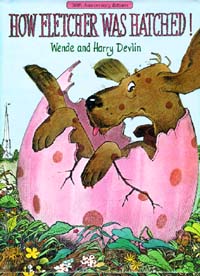 Bibliography
* designates a title still in print
Aunt Agatha, There is a Lion Under the Couch. Parents Magazine Press, 1968.
Cranberry Autumn. Four Winds, 1993.
Cranberry Birthday. Simon & Schuster, 1998.
Cranberry Christmas. Parents Magazine Press, 1976.
Cranberry Easter. Aladdin, 1993.
Halloween. Aladdin, 1990.
Cranberry Mystery. Parents Magazine Press, 1978.
Cranberry Summer. Four Winds, 1991.
Cranberry Thanksgiving. Parents Magazine Press, 1971.
* Cranberry Valentine. Aladdin, 1992.
Hang on Hester. Aladdin, 1980.
How Fletcher Was Hatched. Parents Magazine Press, 1969.
A Kiss for a Warthog. Van Nostrand Reinhold Company, l970.
The Knobby Boys to the Rescue. Parents Magazine Press, 1965.
Old Black Witch. Parents Magazine Press, 1963.
Old Witch and the Polka-Dot Ribbon. Parents Magazine Press, 1970.
Old Witch Rescues Halloween. Parents Magazine Press, 1973.
The Trouble With Henriette. Simon & Schuster, 1995.
Film adaptation of The Old Black Witch: "Winter of the Witch", directed by Gerald Herman, 1969.
Other Titles
To Grandfather's House We Go: A Roadside Tour of American Homes. Parents Magazine Press, 1967.
The Wonderful Tree House. Written by Harold Longman and illustrated by Harry Devlin. Parents Magazine Press, 1962.
What Kind of a House is That? Parents Magazine Press, 1969.
Portraits of American Architecture: Monuments to a Romantic Mood, 1830-1900. Gramercy Books, 1989, 1996.
Mitnick, Barbara J. Harry Devlin: A Retrospective. Morris Museum.
Web Resources