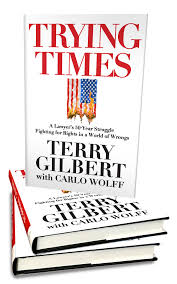 "Many of the legal battles in this book speak to the long tradition of radical lawyering in the style of the great Clarence Darrow, based on the realization that eventual outcomes are not always determined by legal proceedings but rather by societal responses. The establishment cringes at this approach because the legal system takes pride in being untouched by outside forces, projecting a façade that a case should only be decided by facts and legal precedent, not public outrage or political influence. This rigidity is often hypocritical, because no one actually believes that politics are not at play in courts." Terry Gilbert, "Trying Times"
I felt like scales fell off my eyes after reading Trying Times, the memoir of civil right attorney Terry Gilbert. If you think routine miscarriage of justice and police brutality just happen in New York City, Los Angeles, Minneapolis, Terry and his co-author Carlo Wolff will shock you about history of systemic violence, inequality, and unfairness in the legal system right here in Cleveland, OH.
Trying Times discusses by name judges and prosecutors who obstructed justice. Evidence was withheld; testimonies were falsified; police raided the homes of peaceful protesters. It humanizes and remembers local revolutionaries, like Father Robert Begin, Art McCoy and Brother Diablo of the Black Unity House. They detail the struggles of the American Indian Movement in their battle for autonomy and against corruption in the United States government and the Bureau of Indian Affairs.
Trying times is essential reading for those who want to dig deep into the history of Cleveland from 1970 to present. This memoir is for legal professionals committed to the cause of justice and the ordinary citizen who desires to clearly see the machinery of systemic racism in Cleveland.
To purchase an autographed copy of Trying Times, please go to Loganberry Books' online store or call Loganberry at 216-795-9800.
You can also read books mentioned in Trying Times or related to its history at Bookshop, the online affiliate of Loganberry Books.