I have so far finished 27 books this year. Life got in the way during February so my reading slowed down a bit. I am happy to say I am back to my regular pace. I stepped out of my comfort zone and enjoyed what I read! Below are some of the stand out reads.
The Cousins by Karen M. McManus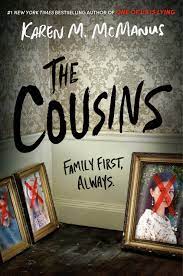 My first read of the year did not disappoint. This book was my exact reading taste- a YA thriller! We follow three cousins summoned to their grandmother's island resort for the summer. This was the perfect way to start my reading year! The twists and turns were amazing and the story was so gripping. I am not sure if there will be a sequel but if there is I will absolutely pick it up!
The House In The Cerulean Sea by TJ Klune
I had heard nothing but rave reviews about this book so I tried to manage my expectations. There was no need; I laughed out loud, I cried, and I spoke to these characters (yes, I frequently aloud to book characters). I loved all of the characters so much, part of my tears were the fact that our time together was ending. I am not a big romance fan but the romance in this story was perfect. The ending wrapped up everything so well but I want to go on more adventures with this cast of characters.
A Deadly Education by Naomi Novik
This was my first adult fantasy after mainly reading Middle Grade fantasy. Because this was my first adult fantasy it was definitely a shift. I was intrigued throughout but the last sentence had me sitting up, screaming, and demanding the sequel. Needless to say my mother did not cough it up. I actually Buddy Read this with a friend! I cannot wait for the sequel.
Leave the World Behind- Rumaan Alam
This speculative book left me shook. I was highly on edge throughout my read in the best way. Alam created the perfect atmospheric setting infused with so much tension, I couldn't put the book down.
This book was a departure from what I typically read but the synopsis was too intriguing to not pick up. I am glad I took a chance on this book because it was a great experience.
Ambitious Girl- Meena Harris
I read this book to my two year old cousin. I felt it was good to add to this list because even though it is a children's book it is filled with great reminders for women of all ages
Amari and the Night Brothers by B.B. Alston
I cannot praise this book enough! This was a book I needed when I was younger but reading it now is good too. Alston seamlessly weaves social commentary into the mythical world in an accessible and relatable way.
The story was fast-paced and fun. I was thoroughly entertained throughout the entire book. Even though I am an avid mystery/thriller consumer and trust no character, I was still surprised. This may be middle grade but I recommend it to anyone!
City of Ghosts by Victoria Schwab
Set in Edinburgh, this tongue-in-cheek paranormal fantasy was so much fun to read! Cassidy's life is quite ironic- she can see ghosts but her ghost hunting parents cannot. Cassidy falls into a life or death quest while her parents are filming their ghost hunting show.
I really want to go to Edinburgh now. While I do not particularly believe in ghosts, a city filled with that much history sounds amazing. I really appreciated how atmospheric this book was. I felt very immersed in the world.
Who Killed Mr. Boddy? Based on the game Clue
I used to read this series with my brother and we were obsessed! I was weary of revisiting this series but it did not disappoint. Ironically, I have never played the game this series was based on.
This book does a great job crafting mysteries that are thought-provoking but not so difficult that the target audience- or even adults- can't figure out. The chapters are good lengths for being digestible and not overwhelming. The book of course reads fairly juvenile but that didn't bother me as I was mainly reading it for nostalgia. Overall, I enjoyed the nostalgia of this book and will likely continue the series just for a fun and quick read.
When No One Is Watching by Alyssa Cole
I definitely really enjoyed this book. I had times when I was uncomfortable with how close to home this hit. It dredged up a lot of feelings I had during the summer of 2020 when the Black Lives Matter movement was really ramping up. Even though it was uncomfortable it was also really validating to know that I was not the only person feeling this way. I think this story was ~scary~ because a lot of things that happened in the book happen in real life. Things like microaggressions and fetishizing are real things BIPOC individuals face. I have heard complaints about the "twist"/big reveal. It really worked for me. I did not see it as so far fetched that it ruined the story. It was enough of a stretch that I was reminded it was fiction even though it felt so real.
Girls Who Code: The Friendship Code by Stacia Deutsch
I love this book so much! I wish I had had this book when I was younger. Not only are we learning the importance of hard skills- specifically coding- we are also learning the importance of interpersonal skills. The breakdown of coding language was so accessible! It did not take me out of the story at all- it actually enhanced my experience!
This book was also good from a story standpoint. The mystery was obvious to me because I read way too many thrillers and am leery of everyone and everything. However, if I were within the target age range, it would have been engaging without being too challenging.
I really connected with the main character, Lucy. She was a bit egocentric at the beginning- which to be fair was developmentally appropriate- but grew a lot over the course of the book. I really appreciated the integration of everyones' interests- this emphasizes that a person can have many interests and these can coexist. This is a lesson that often takes time to learn.
I am in the middle of plenty of books so the next recent reads should be an interesting assortment of books. What have you been reading? If you have any recommendations, drop them below! Happy Reading!