I love finding old things in books.  Like my pals at Forgotten Bookmarks, I've decided to share some of the neat ephemera I find.  I've been doing this for years, actually, and making card collages of ephemera in a series I call Lost in a Good Book. So here's to a new format for that series.
Today's feature is a nice art book titled John Marin by John Marin, edited by Cleve Gray (Holt, Rinehart and Winston, 1977, first edition).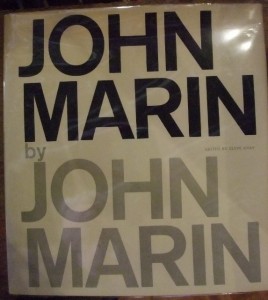 A typewritten note was laid-in, on acidic paper.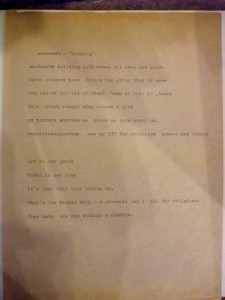 It reads:
movement  — "drawing"
woolworth building p.91 moves all over the plac4
Three primary hues Nature has given them to us–
how can we get rid of them?  None of them is absent
from nature except when nature s sick
my picture worries me    those we love worry us.
reductioadabsurdum   see pg 137 for criticism  pcasso and others
Art is not great
Music is not grat
It's just that they tickle us.
That's the trouble with t e personal God i  all the religions.
They have  ade him without a chuckle.
—
I think I'll just leave the note in the book for the next owner.