We all know that reading a good book or two (or three or more) is one of the best ways to pass the time, and it is especially helpful when you are asked to stay home and practice social distancing. During the time of the Black Death in the Middle Ages, Italian author Giovanni Boccaccio (1313–1375) wrote his most famous work, The Decameron (completed around 1353). The book is a compilation of 100 stories framed in a most unique way. Ten young people, seven women and three men, are self-isolating from the Plague in a secluded villa outside Florence. The travelers pass the time by having each person tell one story each day for ten days, resulting in 100 stories. The stories are centered on the theme of love, spanning from erotic to tragic; there are plenty of laughs, practical jokes, and life lessons, too.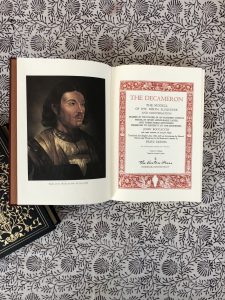 The Decameron is packed with delights, and since it doesn't need to be read cover to cover it can be dipped into, making it particularly helpful in these times of frequent news alerts and social media posts. Boccaccio's Decameron is one of the books I would want to have on hand if I were stranded on a desert island. If you are looking to stock your night table with good quarantine reads (our current version of a desert island), Loganberry currently has four different copies available for sale.
This 2-volume limited edition set is number 103 of 174 copies published in London in 1893 by Lawrence and Bullen. It is bound in 3/4 dark red leather over cloth with gilt lettering and gorgeous marbled endpapers. The full-page illustrations were done by Louis Chalon. $130
The Folio Society edition, translated by Richard Aldington, was first published in 1955; this copy is a third printing, published in 1998. The two volumes feature stunning bindings in the colors of the Italian flag and are housed in a sturdy slipcase. $65
These Franklin Mint (blue binding) and Easton Press (red binding) editions are $35 each. They are illustrated and feature ornate leather bindings.
You can purchase these books through our online store (enter "Decameron" in the search box), or call us at (216) 795-9800, and we will make arrangements to deliver them to you. In addition to the copies shown above, there are other editions available in print. Let us know what you are looking for, and we can order for you.
Happy Reading!