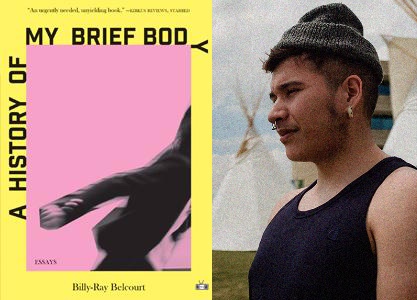 Sometimes, a book comes along, and it commands that you dig into it with a pencil, highlighter, or post-its. You're hungry to eat it up, and your brain enjoys the meal so much that it's like the best food coma you've ever had. This is Billy-Ray Belcourt's A History of My Brief Body. 
I was fortunate enough to attend Belcourt's zoom interview with Hanif Abdurraqib earlier in May, where the esteemed writer asked Belcourt intriguing questions about the book's content, primarily focusing on Canada (Belcourt's home country) and identity. A compelling motif throughout the conversation was a meditation on memory, where Abdurraqib said at one point of the United States, "I feel like we are a country obsessed with proof, and a country obsessed with forgetting." Belcourt agreed, astutely remarking that Canada as well suffers from "cultural, historical amnesia." In other words, both countries are adamant about preserving history through a perspective that paints their pasts in a certain (positive) light, as showcased in the monuments, statues, and even outdated textbooks they've kept that fifth graders learn from in their history classes. Consequently, the two countries are reluctant to remember comprehensively, to recall these significant periods' or figures' counterparts (i.e. the whole story). Therefore peoples' histories, their bodies, are lost. This is what Belcourt, as a queer Canadian "NDN" (Native Indian), incisively demonstrates in his collection of essays: to remember is to look in the mirror, to no longer rest in blissful ignorance, to finally face the horror that has paved the way for their (Canada's and the United States') present realities. Because both of the authors write in part to directly address this cultural amnesia, to raise the voices of and breathe life into queer BIPOC stories, they wonder if they, too, will work "a lifetime of reminding due to an eagerness to forget."
But they persist nonetheless, because they also write for themselves, for healing, for (self) liberation. What Abdurraqib admires about Belcourt's new collection, I do as well: Belcourt breaks the constraints of linearity, writing in any which way he wants, free to explore the realms of his past, cultural theories, and personal optimisms in whatever order he pleases. There is a section that alphabetically defines key terms relating to being queer and NDN; there are fragments where he recalls forlorn love affairs with strangers; there is even a brief moment where he writes upside-down. It is clear he has read and admired the work of Maggie Nelson and Ocean Vuong (they are honored in the book). Nelson's prose-poetry style and grappling with theory in The Argonauts and Vuong's techniques of shifting between poem and action in On Earth We're Briefly Gorgeous are reminiscent throughout Belcourt's text. Through this modulating, liquid narrative mode, the reader is also unfettered, as if his words are humming to them, encompassing them, like meditation chants rather than stagnant plot points. Belcourt is, after all, a poet. 
Aside from exquisite, propelling prose and a commanding, lovable voice, Belcourt's sequence of essays are vital to undressing Canada and, ultimately, to understanding oneself as multiplicitous. Endearing questions, and even more endearing answers, are posed. I was taken at every turn, trusting Belcourt to live up to what I knew would be accomplished just from having read the first page, and I was not let down. A remarkable feat, and it will be a long-time favorite. 
Set to release July 14, 2020. Mark your calendars, or you can preorder by calling or emailing us!