To witness is to humanize. Reading is an act of both witnessing and humanization. The passive activity of reading – sitting silent in a room and devoting one's full attention to a printed page – is a powerful action. A step toward becoming anti-bias.
A cisgender, white female friend of mine quipped that she found a certain transgendered woman's poetry unexceptional because the transgendered woman still felt post-transition rage. My friend said, "I know other trans women, and frankly, their transition is the least interesting thing about them. I know one, for example, who is extremely well-read. In fact, she is better read than you."
Zingers zap amok. My friend rendered invisible the transgendered woman and me in a few sentences. She edited us out.
With humility, I am a well-read Black girl. My professors at Columbia University — James Shapiro, Maryse Conde, and Eric Foner — are better read than I. To everyone else: I challenge you to post a picture of your bookshelves on Instagram and let's start counting.
Nonetheless, if you were to study my shelves, you would see that I read a disproportionate number of Black women writers.
My friend perceived deficiency in my reading because she and I are not reading the same books. She devalues my reading selection to the point of invisibility. She is a literary segregationist. Whites only.
I have another white female friend who lives in Shaker Heights. She travels along Buckeye Road to work at a law firm in downtown Cleveland. Her friends and colleagues urge her to stop taking such a dangerous route. She says, "It's the quickest way to get to work, and these people are just poor."
My Shaker friend is an accidental tourist. She views the abandoned houses, bag ladies, and lottery-tobacco-liquor stores. She does not stop for gas, but she witnesses the other. To witness is to humanize.
Therein lies one answer to a literary "whites only" policy. Drive across literary racial boundaries because it's the quickest route. The quickest route to a different story. The quickest route to witnessing the other. Ideally, the quickest route to anti-bias humanization.
If you too are an accidental tourist willing to cross the color line and become a freedom rider of letters, here is a list of my favorite books written by Black women in 2020.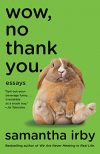 Nonfiction
Wow, no thank you by Samantha Irby (Memoir): Discovering Samantha Irby is like being transported to humor heaven. Filled with zingy one-liners about all facets of life, Irby is in rare form. The essays in the book cover an enormous number of topics, from Crone's disease, to marrying a woman with children, to house repair, to introversion, to urination and poop. Nothing is taboo to Irby, and everything in life can be a source of humor.

Memoir shout out – Memoir Drive by Natasha Threthewey
Just Us: An American Conversation, Claudia Rankine (Essay): All hail Claudia Rankine.
Overground Railroad, Candacy Taylor (History): Overground Railroad is an impressive tour through U.S. history when it was unsafe for Black people to travel the roadways since they were often turned away from restaurants, hotels, and gas stations. The book is a great companion to the movie Green Book and the television series Lovecraft Country.
Fiction

The Office of Historical Corrections by Danielle Evans (Short Stories): I have been holding my breath for Danielle Evan's next book of short stories since Before You Suffocate Your Own Fool Self. This collection was worth the wait. She delivers the same great story telling, insight, and sharp cultural commentary. Her touch on themes usually associated with older people, such as redemption, reconciliation, propitiation, moved me.
The Year of the Witching, Alexis Henderson (Fantasy): If you're fan of gothic literature, tales of cult-like religion, examinations of race and misogyny, and powerful witches, then I can guarantee that you'll love Alexis Henderson's debut novel. Henderson has crafted a terrifying, heart-pounding, and surprisingly romantic feminist fantasy that you'll tear through in a day.
Fantasy shout out – The City We Became by N.K. Jemisin and The We and the They by Kyra Ann Dawkins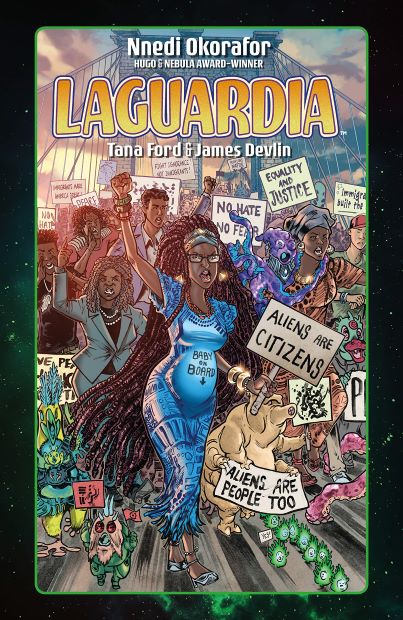 LaGuardia, Nnedi Okorafor (Graphic Novel): Not every author can transition from novel writing to comic writing smoothly. LaGuardia did not disappoint. This is an allegory about 'America First' immigration policies, racism, and fear. She builds fearful anti-alien characters with compassion while tracing an arc that reveals the absurdity of their prejudices. She creates a large cast of characters from across the world and the universe illustrating the complexities of immigration, war, and hatred.
Graphic novel shout out: Parable of the Sower by Damian Duffy and John Jennings, adapted from Octavia Butler
The Vanishing Half, Brit Bennett (Literary Fiction): Scroll down to read Margy Adams' blog post "Black Looks: Race, Beauty, and Memory in Brit Bennett's new Must-Read, The Vanishing Half."

Party of Two, Jasmine Gillory (Romance): Of all the offerings in Jasmine Guillory's Wedding Date series, I loved this one the most. Not only do the characters feel authentic in their feelings and actions, the tension between our two main characters is wonderfully delicious. Funny, warm and romantic. I recommend it to anyone who loves – or even just likes – contemporary romance novels.