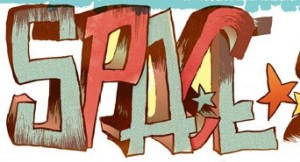 Each spring in Columbus there is a book fair called SPACE, the Small Press and Alternative Comics Expo.  After years of thinking about going, I finally got there.  Approximately 150 artists were set up at tables selling their wares.  It's a tricky show to navigate, in part because the sea of people is so varied:  old guys in Spider-Man shirts, young Goths with piercings, awkward nerds, chickens, quiet artists.  The work reflects this broad spectrum, too.
There were a few familiar people/works:  Cleveland's own Derf Backderf, Matt Kish, Matt Dembicki, a better introduction to Joseph Remnant, who illustrated Harvey Pekar's posthumous Cleveland.  And of course some new finds, which is why you go to a show like this.  Here is a brief introduction to my two favorite finds from the show.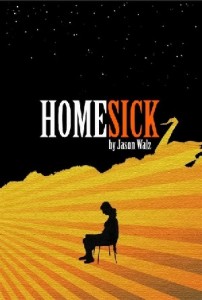 Jason Walz has written a haunting tribute to his mother, and the struggles of finding purpose and courage in beginning his own marriage.  Homesick is a beautiful graphic novel published by Tinto Press (publisher's rep is originally from NE Ohio), and has been recently sold to DC Comics.  Watch this one.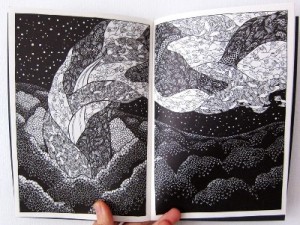 Marnie Galloway is from Texas, currently residing in Chicago.  She's written a couple comic collections, but her new work is a gorgeous novel in woodcuts, a la Lynd Ward.  Volume I is named In the Sounds and Seas, where sounds and dreams materialize and take on personality and meaning of their own.  She is self-published through her own Monkey-Rope Press, and has recently won a Xeric Foundation grant.  I'm eager to see Volume II!