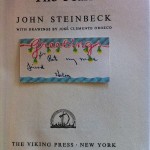 Today in our Lost in a Good Book series, we present a pearl, or rather, The Pearl by John Steinbeck (1947), with a charming little gift tag.
The front of the card reads, "for Pat my nice friend.  Helen."
The reverse of the card reads: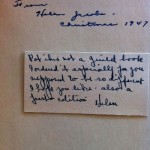 "Pat this [is] not a guild book
I ordered it especially for you
supposed to be so different
I hope you like – also a
first edition
Helen"
And the inscription on the first free endpaper also reads, "From Helen Jacobs. Christmas 1947."  Yup, it is indeed a first edition.  Nice gift, Helen!