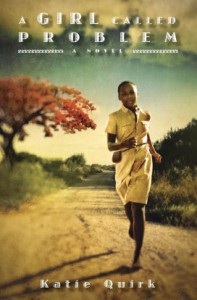 A GIRL CALLED PROBLEM by Katie Quirk
Eerdmans Books, April 2013
Exotic location and sympathetic, real characters combine to provide excellent entertainment in a book aimed at students aged 10-14.  Grandmothers might enjoy it too, as did I.  The place is Litongo, Tanzania, Africa, in 1970.  Residents of this rural village speak Sukuma as well as Swahili, and the heroine is a 13-year-old girl called Shida, which means "Problem".  Superstitions and traditions rule their lives, but Shida has a natural ability to heal and a yearning for an education.  A politically dictated move of the entire village to another one called Nija Panda promises opportunities for Shida, but problems follow her there and escalate.  These problems are blamed on a curse that began with Shida's birth.  Her chance to go to school and to study with a nurse depend on her ability to solve the mystery of this curse and its effect on her family and village, which include sad losses and real challenges for Shida.  History and anthropology are backgrounds here for getting to know a remarkable young woman and watching her grow.