It's a big day, folks!
For me, it sta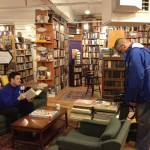 rted at 4am.  I can't believe people get up this early on a regular basis, but, hey, some people have jobs that start early!  For Joe and Derek, and their guests, that means 4am.  Derek was in his multi-media van with the camera running when I arrived at the shop.  He was livestreaming shots of the icy Larchmere morning to WKYC Channel 3.  Joe arrived shortly afterward to get his first tour of Loganberry.  Over the next 3 hours, Derek video recorded 5 short segments from Loganberry, 3 including yours truly, and 1 including Otis.  Always nice to have a little media attention to your small biz, and we appreciate the effort of the early-morning team!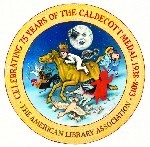 Our multi-media day is just beginning.  At 11am we will live webcast the ALA Youth Media Awards from Seattle WA, featuring Kent State's Carolyn Brodie as the emcee of the event.  We all have our favorites, mock ballots will be collected, and we expect to be surprised.  We are every year!