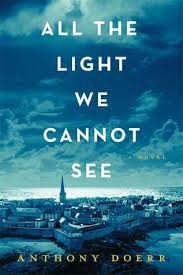 It's finally here!  Anthony Doerr Day!  Have you heard the news? Today is pub day for Doerr's brilliant new novel, All the Light We Cannot See.  It's a magnificent novel, tightly constructed, nuanced, and featuring lovely, likeable young protagonists set against the horrific backdrop of World War II.  If you think you've read enough about World War II, I admonish you to take the time to meet Marie-Laure and Werner.  And to revel in the beauty of Anthony Doerr's prose.
I was thrilled that my short review was chosen for the Indie Next newsletter for May.  There was competition for that, you see, because the hype and praise is pretty solid for this book.  The professional reviews are rolling, cresting, and breaking now, and they are glowing.  Watch this book.  Here's my winning blurb:
The French girl cannot see, but she can hear, feel, and explore the world around her like a budding naturalist. The German boy has no parents, but he teaches himself how coils of copper can receive lessons of love and learning. It's World War II, however, and the potential of thousands of children will be unrealized or thwarted. Will a mythical gemstone save them or unite them? Gorgeously written, Doerr's epic tale brings alive the beauty of two souls, their quest for learning, the turbulent times they cannot control, and the rock that mysteriously guides their fate.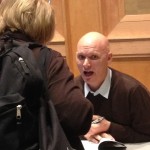 And here is Anthony Doerr at Winter Institute (a bookseller's conference) in Seattle this January, signing my ARC (Advanced Reader's Copy).   Now to admonish Tony to come home to Cleveland, you know, to visit his folks and all, and to celebrate with a book signing at Loganberry Books.  We've got the red (purple) carpet ready, Tony!