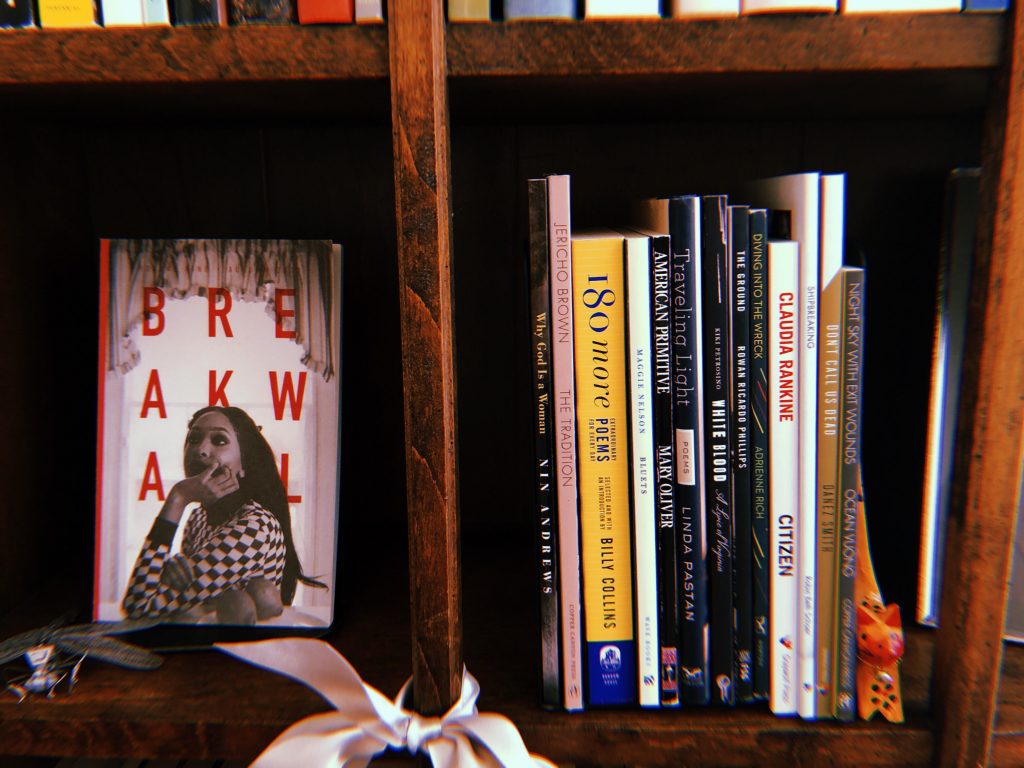 In honor of National Poetry Month, I thought it would be appropriate to dedicate a post to the wonderful form of poetry, to think about how poetry has changed over time and to contemplate its role in society today. Of course, unpacking all of that is a sizable project that would take numerous blog posts, so I will (attempt to) keep it brief, which consequently means I won't be able to talk about all that I wish I could. I am a fan of poetry, as demonstrated by the image above, which is a selection of my personal collection of both widely known and locally published volumes. However, I know the medium does not always present itself as…welcoming.
Poetry can seem exclusive, inaccessible, elite. This is interesting, because poetry started out as a method of story-sharing, its primary mission accessibility, connection. Think of Homer: The Iliad is figured to be one of the oldest works of Western literature, first recited, dramatized vocally, rather than being shared through text. But we cannot say that poetry has stayed the same since the beginning. Now, I'm no poetry specialist (just a lowly English major), but there is something to be said for how deeply engrained poetry seems to be in the world, through centuries and centuries. Does poetry have the same impact on public consciousness that it once did? How has our social landscape changed, and thus, how have these shifts affected poetry? Perhaps it would be apt to turn to poets; what can they do now that they could not before? If we stick to the idea that poetry is a way of story-sharing, how can people share ideas with each other? 
In my view, when we think of "poetry," there is an idea we have of a "high" art that points to writers like Walt Whitman, Percy Shelley, John Keats, and other names you might remember from your high school English class. Regarding poetry's inaccessible edge: when we think of, for example, Keats or Tennyson, the language they use can be difficult for anyone to comprehend nowadays because language has changed, and what it referenced regularly has as well. Are we talking about Grecian urns anymore, in everyday conversations? Well, maybe you are, and that sounds fascinating. I, unfortunately, am not, except in reference to Keats' famous poem "Ode on a Grecian Urn." Though, that is not to say that all poetry is inaccessible because of the specific language people of the time used. It is a testament to the poet when, even after years and years, a poem is as evocative now as it once was. (To that point, I think of Emily Dickinson, Audre Lorde, Pablo Neruda.)
However, contemporarily, many poets use social media as a way to share their art. As a result, the idea we have of a "legitimate" poet has changed, and thus, so has the form. Unlike 200, 100, or even just 50 years ago when poets heavily relied on official print publication, poets who self-publish via Instagram or other means are not taken as seriously as those who have published "traditionally." This is hindering to the art, as it encourages the idea that poetry ought to be exclusive, which goes against its first intentions! But then, I think of Elizabeth Acevedo. Or Hanif Abdurraqib. Or, Rupi Kaur.
These poets, among many others, have shifted the ways poetry is shared and how or what stories are told, in some ways returning the form to its roots. Acevedo's triumph The Poet X is arguably better experienced as an audiobook, because listening to the presentation of the poetry is striking and purposeful. Acevedo has embraced poetry as story-telling through vocal, intentional renderings of her work. Kaur became widely known for her short poems shared via social media because she was able to connect with so many across the globe. However, because poets like Kaur use free avenues of sharing their work, it is taken to be of a lesser quality. And many slam-poets like Acevedo face the same criticism, their vocal showcasing often dismissed as not "real" poetry. If a poem's first intent––to be heard, seen, sensed, felt––overshadows its ability to translate onto a printed page, it is delegitimized. It is also worth noting the fact that these poets are women of color, which is not extractable from their work being interpreted as "lesser than." But poetry that speaks to us without the barriers of capital, that makes us feel heard and seen and represented, exemplifies story-sharing at its core, at its most legitimate.
All this is to say that poetry is a way of connecting us all. While some of us may not be enthralled by T.S. Eliot and others may scoff at Rupi Kaur, this adapting form of expression has stood the test of time, because it has shown itself to be so central in how we experience life. Whether reading poetry, hearing it, or feeling it, language is itself poetic, because we live inside it. We think, communicate, sense, love, cry, and breathe in language. Poetry knows this better than any other form, and we owe it more than we think.
And what kind of bookseller would I be if I went through all this trouble without giving my own personal poetry recommendations?
For the poetry-slam lovers: The Poet X by Elizabeth Acevedo, No Matter the Wreckage by Sarah Kay, Soft by Damien McClendon, Crossfire by Staceyann Chinn
For seekers of genre-defying and prose poetry: Citizen by Claudia Rankine, The Argonauts by Maggie Nelson, Why God is a Woman by Nin Andrews
For the fans of the traditional styles: Twelve Love Poems and a Song of Despair by Pablo Neruda, Blue Horses by Mary Oliver
For those who want to be pushed, to possibly have their heart broken and their ideas challenged: Wade in the Water by Tracy K. Smith, Don't Cal Us Dead by Danez Smith, Diving into the Wreck by Adrienne Rich, The Tradition by Jericho Brown, A Fortune for Your Disaster by Hanif Abdurraqib
For those who wish for a kick in the feelings: Bluets by Maggie Nelson, Night Sky with Exit Wounds by Ocean Vuong, Soldier by June Jordan (interweaves memoir and poetry)
Thanks for reading, and I hope if you've been questioning getting into poetry that you'll give some of these a shot! Happy National Poetry Month!