2010 Discussions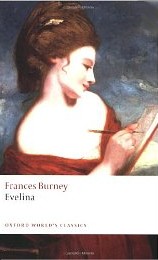 Frances Burney: Evelina
Thursday, May 27, 2010, 7 pm
Frances Burney's first and most enduringly popular novel is a vivid, satirical, and seductive account of the pleasures and dangers of fashionable life in late eighteenth-century London. As she describes her heroine's entry into society, womanhood and, inevitably, love, Burney exposes the vulnerability of female innocence in an image-conscious and often cruel world where social snobbery and sexual aggression are played out in the public arenas of pleasure-gardens, theatre visits, and balls. But Evelina's innocence also makes her a shrewd commentator on the excesses and absurdities of manners and social ambitions--as well as attracting the attention of the eminently eligible Lord Orville. Evelina, comic and shrewd, is at once a guide to fashionable London, a satirical attack on the new consumerism, an investigation of women's position in the late eighteenth century, and a love story. The new introduction and full notes to this edition help make this richness all the more readily available to a modern reader.
---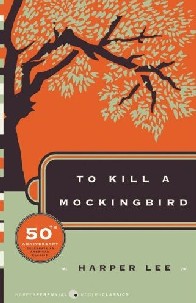 Harper Lee: To Kill a Mockingbird
Thursday, June 24, 2010, 7 pm
One of the best-loved stories of all time, To Kill a Mockingbird has been translated into more than forty languages, sold more than thirty million copies worldwide, served as the basis of an enormously popular motion picture, and was voted one of the best novels of the twentieth century by librarians across the country. A gripping, heart-wrenching, and wholly remarkable tale of coming-of-age in a South poisoned by virulent prejudice, it views a world of great beauty and savage inequities through the eyes of a young girl, as her father -- a crusading local lawyer -- risks everything to defend a black man unjustly accused of a terrible crime.
---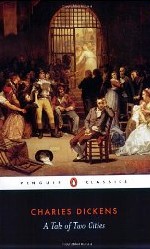 Charles Dickens: A Tale of Two Cities
Thursday, July 29, 2010, 7 pm
"It was the best of times, it was the worst of times…." With 200 million copies sold, A Tale of Two Cities is among the most famous works of English fiction. It depicts the plight of the French peasantry under the demoralization of the French aristocracy in the years leading up to the French Revolution, the corresponding brutality demonstrated by the revolutionaries toward the former aristocrats in the early years of the revolution, and a number of unflattering social parallels with life in London during the same time period. It follows the lives of several protagonists through these events, most notably Charles Darnay, a French aristocrat, and Sydney Carton, a dissipated British barrister who endeavours to redeem his ill-spent life out of love for Darnay's wife, Lucie Manette.
---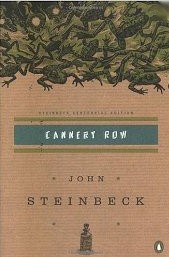 John Steinbeck: Cannery Row
Thursday, August 26, 2010, 7 pm
Steinbeck's enduring novel explores life near the sardine fisheries of Monterey, California during the Great Depression. The stories of Doc, a marine biologist; Mack, the leader of a group of hobos; Dora, the proprietor of the local whorehouse; and others interweave to paint a convincing portrait of the lives of those misunderstood, marginalized people who still exist at the fringes of American life today.
---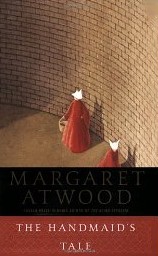 Margaret Atwood: The Handmaid's Tale
Thursday, September 23, 2010, 7 pm
In a startling departure from her previous novel, respected Canadian poet and novelist Atwood presents here a fable of the near future. In the Republic of Gilead, formerly the United States, far-right Schlafly/Falwell-type ideals have been carried to extremes in the monotheocratic government. The resulting society is a feminist's nightmare: women are strictly controlled, unable to have jobs or money and assigned to various classes: the chaste, childless Wives; the housekeeping Marthas; and the reproductive Handmaids, who turn their offspring over to the "morally fit" Wives. The tale is told by Offred (read: "of Fred"), a Handmaid who recalls the past and tells how the chilling society came to be. --Library Journal
---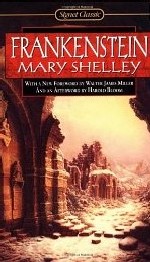 Mary Shelley: Frankenstein
Thursday, October 28, 2010, 7 pm
The epic battle between man and monster reaches its greatest pitch in the famous story of Frankenstein. In trying to create life, the young student Victor Frankenstein unleashes forces beyond his control, setting into motion a long and tragic chain of events that brings Victor himself to the very brink. How he tries to destroy his creation, as it destroys everything Victor loves, is a powerful story of love, friendship …and horror. –GoodReads.com
---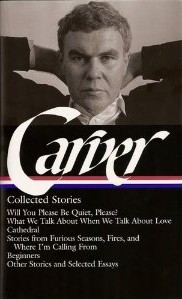 Raymond Carver: Collected Stories
Thursday, November 18, 2010, 7 pm
From the jacket flap: Raymond Carver's spare dramas of loneliness, despair, and troubled relationships breathed new life into the American short story of the 1970s and '80s. In collections such as Will You Please Be Quiet, Please? and What We Talk About When We Talk About Love, Carver wrote with unflinching exactness about men and women enduring lives on the knife-edge of poverty and other deprivations. Beneath his pared-down surfaces run disturbing, violent undercurrents. Suggestive rather than explicit, and seeming all the more powerful for what is left unsaid, Carver's stories were held up as exemplars of a new school in American fiction known as minimalism or "dirty realism," a movement whose wide influence continues to this day. Carver's stories were brilliant in their detachment and use of the oblique, ambiguous gesture, yet there were signs of a different sort of sensibility at work.
Our discussion will focus on three of Carver's most acclaimed stories: "Cathedral," "What We Talk About When We Talk About Love," and "A Small, Good Thing."
---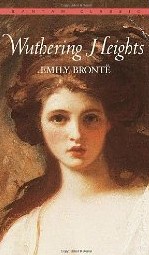 Emily Bronte: Wuthering Heights
Thursday, December 16, 2010, 7 pm
Wuthering Heights, Emily Bronte's only novel, is one of the pinnacles of 19th-century English literature. It's the story of Heathcliff, an orphan who falls in love with a girl above his class, loses her, and devotes the rest of his life to wreaking revenge on her family.-Goodreads.com
Discussion Archives