About the Author
Maud Fuller (1890-1971), fresh from Scranton, Pennsylvania, and Miska  Petersham (1888-1960), a Hungarian immigrant of peasant extraction, met as young artists pursuing careers in a New York City advertising firm. It was after the birth of their son, Miki, that the couple began to create children's books together, their first one being, in fact, Miki. They went on to perfect an efficient creation process, with Maud taking the role of writer and general layout designer, from which point Miska took over the illustrations. They have been likened to the d'Aulaires, not only in the proliferation of their works for children, but also in their robust, optimistic vision of Americana, which inspired and fills many of their books. One of these books, The Rooster Crows: A Book of American Rhymes and Jingles won the Petershams the 1945 Caldecott medal.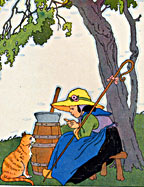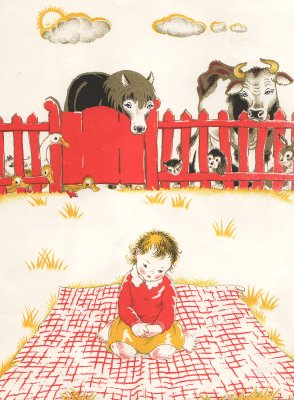 Selected Bibliography
Auntie and Celia Jane and Miki (1932).
The Story Book of… (1933-39) 19 titles.
David (1938).
Joseph and His Brothers (1938).
Moses (1938).
Ruth (1938).
Stories from the Old Testament (1938).
An American ABC (1941).
America's Stamps (1947).
A Bird in the Hand: Sayings from Poor Richard's Almanac (1951).
The Silver Mace: A Story of Williamsburg (1951).
Story of the Presidents of the United States of America (1953).
Off to Bed: Seven Stories for Wide-Awakes (1954).
The Peppernuts (1958).
The Shepherd Psalm (1962).