About the Author
(1921- 2006, The Netherlands) Jean Dulieu's Paulus character has been featured in many illustrated stories, puppet shows, radio plays, puppet movies, animated movies, and in his popular comic strip Paulus de Boskabouter. Paulus and the Acornmen is a wonderful fantasy illustrated with 47 full-page color plates and numerous black and white drawings. Paulus, a dwarf, is made even smaller by a witch, who then presents him to a blundering gang of acorns come alive. They make Paulus their king, and then become involved in plots, counter-plots, and wild adventures in the woods. Thomason and Lowe assisted in the translation of this Dutch classic.
Loganberry Legacy
We had this once and put the happy customer's comments on the I Remember That Book! page. We've been swamped with requests ever since. Many of these requests are from European customers, but not all of them, since there was an American edition published in Cleveland.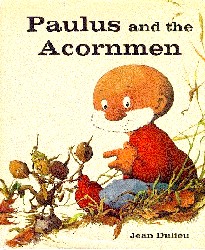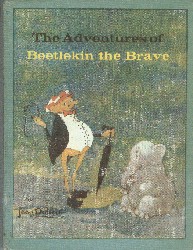 US Bibliography
The Adventures of Beetlekin the Brave. Cleveland, World, 1966.
Paulus and the Acornmen. Cleveland: World, 1966.
Paulus and the Dragon. Crossing Press, 1978.
Web Resources