About the Author
(1867-1939) Born into Victorian London, Arthur Rackham is most recognized for the ethereal fantasy illustrations he did for both children's and adult classics of literature and folklore. He worked his way to success, first supporting himself as a clerk while attending the Lambeth School of Art, then finding his way into advertising until he was able to devote all his time to book illustration. The works for which he is most known, such as RIP VAN WINKLE and PETER PAN, were executed around the turn of the century and are thoroughly Edwardian. It is often noted that Rackham continued solidly in the Edwardian vein—more relaxed than Victorian and more lavishly romantic—long after World War I had thoroughly shattered English idealism.
Loganberry Legacy
One of the most famous of the Golden Age Illustrators is Arthur Rackham. While many of this books have been reprinted, even recently, none compare to the first editions of his work in which the paper, printing, and color of reproduction are truly superior. There are also limited signed editions of his work, usually bound in vellum, which are breathtaking for their craftsmanship. We don't have any in stock at the moment, but you can always ask…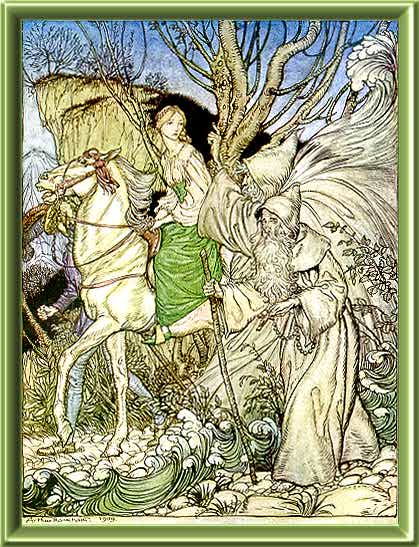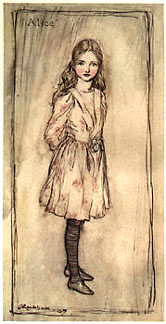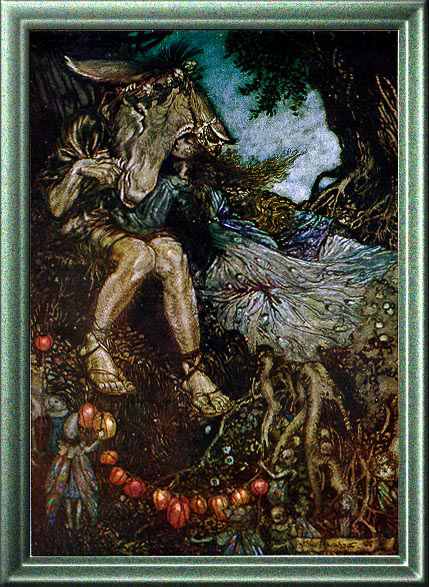 Selected Bibliography
The Zankiwank and the Bletherwitch. J.M. Dent, 1896.
Aesop's Fables, 1912.
The Allies' Fairy Book, 1916
The Ingoldsby Legends, 1905.
The Little White Bird, 1902.
Peter Pan in Kensington Gardens, 1906.
The Land of Enchantment, 1907.
The Lonesomest Doll, 1928.
Two Old Ladies, Two Foolish Fairies and a Cat: The Surprising Adventures of Tuppy and Tue, 1897.
The Pied Piper of Hamelin, 1934
Alice's Adventures in Wonderland, 1907.
A Christmas Carol. 1915.
Cinderella. 1919.
The Sleeping Beauty, 1920.
Good Night, 1907.
The Vicar of Wakefield, 1929.
The Wind in the Willows, 1940.
Hansel and Grethel, 1923.
A Wonder Book, 1922.
Stories of King Arthur, 1905.
The Bee-Blowaways. 1900.
Peer Gynt: A Dramatic Poem.1936.
The Legend of Sleepy Hollow, 1928.
The Argonauts of the Amazon, 1901.
Puck of Pook's Hill, 1906.
Undine, 1909.
Feats on the Fjord. London, 1914.
The Night Before Christmas, 1900.
Mother Goose. The Old Nursery Rhymes, 1913.
The Greek Heroes, 1903.
Goblin Market, 1933
The King of the Golden River, 1932.
A Midsummer-Night's Dream, 1908.
English Fairy Tales, 1930.
Irish Fairy Tales, 1920.
Gulliver's Travels, 1909.
The Rhinegold and the Valkyrie, 1910.
Siegfried and the Twilight of the Gods, 1911.
The Ring of the Niblung, 1923.